112th: Morten Høi Jensen on A Difficult Death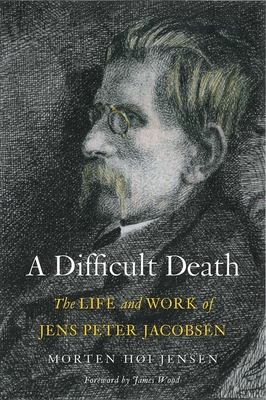 Join us at Book Culture on 112th on Friday, September 29th to celebrate Morten Høi Jensen's new book A Difficult Death: The Life and Work of Jens Peter Jacobsen! Morten will be joined in conversation by Mikkel Rosengaard.
Click here to RSVP on Facebook!
Beautifully written and incisive, this is the first English biography of a major Scandinavian author who is ripe for rediscovery.
While largely unknown today, Danish writer and Darwin translator Jens Peter Jacobsen was the leading prose writer in Scandinavia in the late nineteenth century and part of a generation that included Henrik Ibsen, Knut Hamsun, and August Strindberg. His novels Marie Grubbe and Niels Lyhne as well as his stories and poems were widely admired by writers such as Rainer Maria Rilke, Thomas Mann, and James Joyce.
Despite his untimely death from tuberculosis at the age of thirty-eight, Jacobsen became a cult figure to an entire generation and continues to occupy an important place in Scandinavian cultural history. In this book, Morten Hoi Jensen gives a moving account of Jacobsen's life, work, and death: his passionate interest in the natural sciences, his complicated and nuanced attitude to his own atheism, and his painful descent toward an early death. Carefully researched and sympathetically imagined, this is an evocative portrait of one of the most influential and gifted writers of the nineteenth century.
---
Born in Copenhagen and educated in England and America, Morten Høi Jensen has contributed to numerous publications, including the Los Angeles Review of Books, Salon, and the New Republic.
Mikkel Rosengaard is the author of The Invention of Ana: A Novel, published in Denmark in 2016 and forthcoming in the United States in February, 2018. He currently lives in New York City, writing mostly about contemporary art. His stories have appeared in The Architectural Review, PBS's ART21, Weekendavisen, and other publications. Rosengaard has also worked writing jobs at the Solomon R. Guggenheim Museum and the 92nd Street Y.
Can't make it? Reserve a signed copy by calling our store today:

$30.00
ISBN: 9780300218930
Availability: On Our Shelves Now - Click Title to See Location Inventory.
Published: Yale University Press - September 26th, 2017
---