112th: Nara B. Milanich on Paternity
Please allow 3-4 days for order processing for ALL orders, in addition to shipping times.

We are currently working with very limited staffing and your patience is greatly appreciated. Thank you!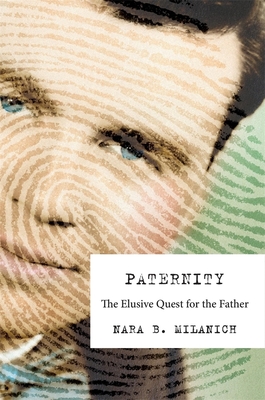 Join us at Book Culture on 112th on Thursday, June 13th at 7pm as we welcome Nara B. Milanich to discuss her new book, Paternity: The Elusive Quest for the Father.
"In this rigorous and beautifully researched volume, Milanich considers the tension between social and biological definitions of fatherhood, and shows how much we still have to learn about what constitutes a father."
--Andrew Solomon, author of Far from the Tree: Parents, Children, and the Search for Identity
For most of human history, the notion that paternity was uncertain appeared to be an immutable law of nature. The unknown father provided entertaining plotlines from Shakespeare to the Victorian novelists and lay at the heart of inheritance and child support disputes. But in the 1920s new scientific advances promised to solve the mystery of paternity once and for all. The stakes were high: fatherhood has always been a public relationship as well as a private one. It confers not only patrimony and legitimacy but also a name, nationality, and identity.
The new science of paternity, with methods such as blood typing, fingerprinting, and facial analysis, would bring clarity to the conundrum of fatherhood--or so it appeared. Suddenly, it would be possible to establish family relationships, expose adulterous affairs, locate errant fathers, unravel baby mix-ups, and discover one's true race and ethnicity. Tracing the scientific quest for the father up to the present, with the advent of seemingly foolproof DNA analysis, Nara Milanich shows that the effort to establish biological truth has not ended the quest for the father. Rather, scientific certainty has revealed the fundamentally social, cultural, and political nature of paternity. As Paternity shows, in the age of modern genetics the answer to the question "Who's your father?" remains as complicated as ever.
---
Nara B. Milanich is Professor of History at Barnard College, Columbia University, where she teaches courses on the history of family, gender, and childhood. She serves on the Editorial Board of the Hispanic American Historical Review and Historia (Pontificia Univ. Católica de Chile). She is a founding member of REHIAL, Red de Estudios de Historia de las Infancias en América Latina. Her writing has appeared in The Washington Post.
Event address:
Book Culture
New York, NY 10025
Can't make it? Reserve a signed copy by calling our store today:

$35.00
ISBN: 9780674980686
Availability: On Our Shelves Now - Click Title to See Location Inventory.
Published: Harvard University Press - June 10th, 2019
---