112th: Natalie Robins and Edward Mendelson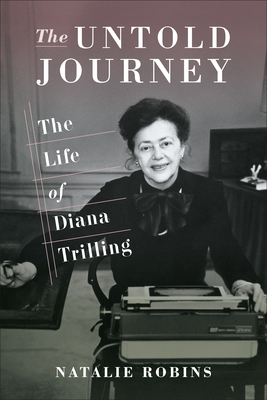 Join us on Wednesday, December 6th at 7pm as Natalie Robins discusses her new book The Untold Journey: The Life of Diana Trilling at Book Culture on 112th. Natalie will be joined in conversation by Edward Mendelson.
Click here to RSVP on Facebook!
Throughout her life, Diana Trilling (1905-1996) wrote about profound social changes with candor and wisdom, first for The Nation and later for Partisan Review, Harpers, and such popular magazines as Vogue and McCalls. She went on to publish five books, including the best-selling Mrs. Harris: The Death of the Scarsdale Diet Doctor, written when she was in her late seventies. She was also one half of one of the most famous intellectual couples in the United States.
Diana Trilling's life with Columbia University professor and literary critic Lionel Trilling was filled with secrets, struggles, and betrayals, and she endured what she called her "own private hell" as she fought to reconcile competing duties and impulses at home and at work. She was a feminist, yet she insisted that women's liberation created unnecessary friction with men, asserting that her career ambitions should be on equal footing with caring for her child and supporting her husband. She fearlessly expressed sensitive, controversial, and moral views, and fought publicly with Lillian Hellman, among other celebrated writers and intellectuals, over politics. Diana Trilling was an anticommunist liberal, a position often misunderstood, especially by her literary and university friends. And finally, she was among the "New Journalists" who transformed writing and reporting in the 1960s, making her nonfiction as imaginative in style and scope as a novel. The first biographer to mine Diana Trilling's extensive archives, Natalie Robins tells a previously undisclosed history of an essential member of New York City culture at a time of dynamic change and intellectual relevance.
---
Natalie Robins is the author of four books of poetry and five works of nonfiction, among them Copeland's Cure: Homeopathy and the War Between Conventional and Alternative Medicine; The Girl Who Died Twice: The Libby Zion Case and the Hidden Hazards of Hospitals; and Alien Ink: The FBI's War on Freedom of Expression, which won the Hugh Hefner First Amendment Award. She lives with her husband in New York City.
Edward Mendelson is Lionel Trilling Professor in the Humanities at Columbia University and is the is the literary executor of the Estate of W. H. Auden. His most recent book is Early Auden, Later Auden: A Critical Biography. Previous books include Moral Agents, The Things That Matter, and Lives of the New York Intellectuals.
Can't make it? Reserve a signed copy by calling our store today:

$32.95
ISBN: 9780231182089
Availability: On Our Shelves Now - Click Title to See Location Inventory.
Published: Columbia University Press - May 16th, 2017
---