112th: Nick White and Dennis Norris II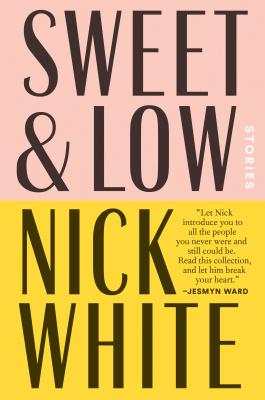 Join us at Book Culture on 112th for a conversation between Nick White and Dennis Norris II on the occasion of White's new collection of short stories, Sweet & Low,on Tuesday, June 5th at 7pm.
Praised by the Washington Post as "Tennessee Williams . . . transposed to the twenty-first-century South," Nick White returns with a stunning short-story collection that tackles issues of masculinity, identity, and place, with a sharp eye for social commentary and a singular handling of character.
At first glance, the stories in Sweet and Low seem grounded in the everyday: they paint pictures of idyllic Southern landscapes, characters fulfilling their roles as students, wives, boyfriends, sons. But they are not what they seem. In these stories, Nick White deconstructs the core qualities of Southern fiction, exposing deeply flawed and fascinating characters--promiscuous academics, aging podcasters, woodpecker assassins, and lawnmower enthusiasts, among others--all on wildly compelling quests. From finding an elusive bear to locating a prized timepiece to making love on the grave of an iconic writer, each story is a thrilling adventure with unexpected turns. White's honest and provocative prose will jolt readers awake with its urgency.
---
Nick White is the author of the novel How to Survive a Summer. His fiction and essays have appeared in The Kenyon Review, Guernica, The Literary Review, LitHub, and elsewhere. He teaches creative writing at The Ohio State University.
Dennis Norris II is a 2017 MacDowell Colony Fellow, a 2016 Tin House Scholar, and a 2015 Kimbilio Fiction Fellow. They are the author of Awst Collection—Dennis Norris II published by Awst Press, and other writing appears in Apogee Journal and SmokeLong Quarterly. Their story, "Where Every Boy is Known and Loved" was recently named a Finalist for the 2018 Best Small Fictions Anthology, forthcoming from Braddock Avenue Books, and their story "Last Rites" appears in the collection "Everyday People: The Color of Life", forthcoming in August 2018 from the Atria Books imprint of Simon and Schuster. They currently serve as Fiction Editor at Apogee Journal, Assistant Fiction Editor at The Rumpus, and co-host of the popular podcast Food 4 Thot. You can find more information at their website: www.dennisnorrisii.com.
Can't make it? Reserve a signed copy by calling our store today:

Email or call for price
ISBN: 9780399573651
Availability: Hard to Find
Published: Blue Rider Press - June 5th, 2018
---