112th: Peter Ginna on What Editors Do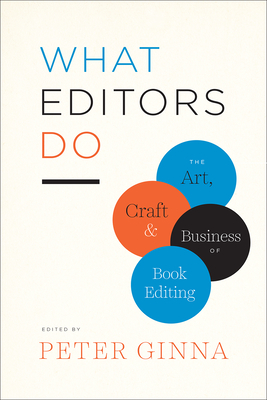 Join us at Book Culture on 112th to celebrate What Editors Do, edited by Peter Ginna, on Thursday, February 22nd at 7pm. Peter will be joined by Cal Morgan, Shaye Areheart, and Katie Henderson Adams.
Editing is an invisible art where the very best work goes undetected. Editors strive to create books that are enlightening, seamless, and pleasurable to read, all while giving credit to the author. This makes it all the more difficult to truly understand the range of roles they inhabit while shepherding a project from concept to publication.
In What Editors Do, Peter Ginna gathers essays from twenty-seven leading figures in book publishing about their work. Representing both large houses and small, and encompassing trade, textbook, academic, and children's publishing, the contributors make the case for why editing remains a vital function to writers--and readers--everywhere.
Ironically for an industry built on words, there has been a scarcity of written guidance on how to actually approach the work of editing. This book will serve as a compendium of professional advice and will be a resource both for those entering the profession (or already in it) and for those outside publishing who seek an understanding of it. It sheds light on how editors acquire books, what constitutes a strong author-editor relationship, and the editor's vital role at each stage of the publishing process--a role that extends far beyond marking up the author's text.
This collection treats editing as both art and craft, and also as a career. It explores how editors balance passion against the economic realities of publishing. What Editors Do shows why, in the face of a rapidly changing publishing landscape, editors are more important than ever.
---
Peter Ginna was most recently publisher and editorial director at Bloomsbury Press; before that he held editorial positions at Oxford University Press, Crown Publishers, St. Martin's Press, and Persea Books. He has taught editing in New York University's publishing program, and comments on editing, books, and publishing at the blog Doctor Syntax and on Twitter at @DoctorSyntax.
Cal Morgan is vice president and executive editor at Riverhead Books; formerly he was an editor and publisher at HarperCollins. He is board chair of the Center for Fiction. Authors he has worked with include Jess Walter, Roxane Gay, Lydia Yuknavitch, and Stanley Crouch.
Shaye Areheart is director of the Columbia Publishing Course. She had a long career as an editor and publisher at Doubleday and Random House, including as publisher of her own imprint. Among the many authors she has worked with are Alice Hoffman, Gillian Flynn, Chris Bohjalian, Ray Bradbury, Douglas Adams, and Martin Amis.
Katie Henderson Adams is a Senior Editor at Liveright (an imprint of W.W. Norton). She has formerly worked at Other Press, Doubleday, Bloomsbury, and Oxford University Press. Some of her recent titles include Amazon's top 20 book of the year American Fire by Monica Hesse, the prizewinning debut novel Here Comes the Sun by Nicole Dennis-Benn, and the New York Times bestseller Women & Power by Mary Beard.
Can't make it? Reserve a signed copy by calling our store today:

$25.00

ISBN: 9780226299976
Availability: On hand at one or more locations, see product page for details
Published: University of Chicago Press - October 6th, 2017
---