112th: Peter Szendy on Of Stigmatology: Punctuation as Experience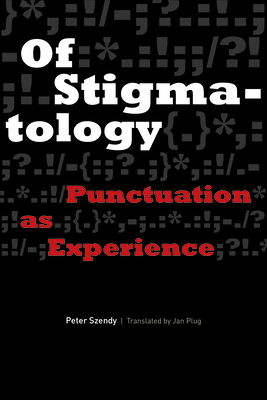 On Monday, April 16th at 7pm, join us for a discussion of Peter Szendy's Of Stigmatology: Punctuation as Experience (Verbal Arts: Studies in Poetics) at Book Culture on 112th. Peter will be joined in conversation with Adam Shatz, contributing editor at the London Review of Books.
Click here to RSVP on Facebook!
Of Stigmatology elaborates for the first time a general theory of punctuation. Beginning with punctuation marks in the common sense, Peter Szendy goes on to trace the effects of punctuation more broadly, arguing that looking and hearing are not passive acts of reception, but themselves punctuate the images and sounds they take in. Szendy reads an astonishing range of texts and traditions, from medical auscultation to literature (Chekhov, Sterne, Kafka), philosophy (Hegel, Nietzsche, Heidegger, Derrida), psychoanalysis (Lacan), and film (Raging Bull, The Trial, Fight Club).
Repeatedly, what Szendy finds in these works is a punctuation that marks experience itself, that seeks (and ultimately fails) to bind the subject to itself. This is the stigmatology of the punctuation mark on the page that structures texts from ancient to digital, as well as the punchuation of experience, as though at the hands of a boxer.
---
Peter Szendy is a professor of comparative literature and humanities at Brown University. His books in English include All Ears: The Aesthetics of Espionage; Kant in the Land of Extraterrestrials: Cosmopolitical Philosofictions; and Listen: A History of Our Ears.
Adam Shatz is a contributing editor at The London Review of Books and a contributor to The New York Times Magazine, The New York Review of Books, The New Yorker, and other publications. He has been a visiting professor at New York University and a fellow at the Dorothy and Lewis B. Cullman Center for Writers and Scholars. Raised in Massachusetts, he studied history at Columbia University and has lived in New York City since 1990.
Can't make it? Reserve a signed copy by calling our store today:

$24.00
ISBN: 9780823278121
Availability: On Our Shelves Now - Click Title to See Location Inventory.
Published: Fordham University Press - January 9th, 2018
---