112th: Philip Ording on 99 Variations on a Proof
Please allow 5-10 days for order processing for ALL orders, in addition to shipping times.

We are currently working with very limited staffing and your patience is greatly appreciated. Thank you!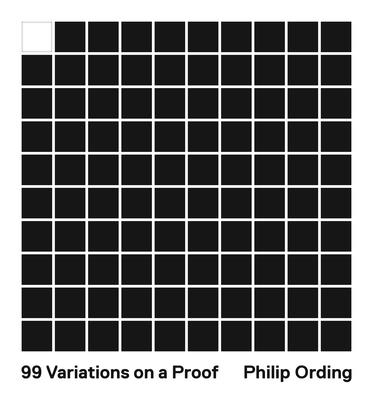 Join us at Book Culture on 112th on Thursday, March 14 at 7pm as we welcome Philip Ording to discuss his new book, 99 Variations on a Proof. Michael Harris will be joining Philip in the discussion.
An exploration of mathematical style through 99 different proofs of the same theorem
This book offers a multifaceted perspective on mathematics by demonstrating 99 different proofs of the same theorem. Each chapter solves an otherwise unremarkable equation in distinct historical, formal, and imaginative styles that range from Medieval, Topological, and Doggerel to Chromatic, Electrostatic, and Psychedelic. With a rare blend of humor and scholarly aplomb, Philip Ording weaves these variations into an accessible and wide-ranging narrative on the nature and practice of mathematics.
Inspired by the experiments of the Paris-based writing group known as the Oulipo--whose members included Raymond Queneau, Italo Calvino, and Marcel Duchamp--Ording explores new ways to examine the aesthetic possibilities of mathematical activity. 99 Variations on a Proof is a mathematical take on Queneau's Exercises in Style, a collection of 99 retellings of the same story, and it draws unexpected connections to everything from mysticism and technology to architecture and sign language. Through diagrams, found material, and other imagery, Ording illustrates the flexibility and creative potential of mathematics despite its reputation for precision and rigor.
Readers will gain not only a bird's-eye view of the discipline and its major branches but also new insights into its historical, philosophical, and cultural nuances. Readers, no matter their level of expertise, will discover in these proofs and accompanying commentary surprising new aspects of the mathematical landscape.
---
Philip Ording is a professor of mathematics at Sarah Lawrence College. He received his BA and PhD in mathematics from Columbia University. During graduate school he began working as a mathematics consultant in art and architecture studios in New York and has since curated art exhibitions, lectured on the intersection of mathematics and the arts, and written for Cabinet, The Serving Library, and other publications. He is coeditor of Simplicity: Ideals of Practice in Mathematics and the Arts. He lives in Brooklyn.
Michael Harris is professor of mathematics at Columbia University. He is the author or coauthor of more than eighty mathematical books and articles, and has received a number of prizes, including the Clay Research Award, which he shared in 2007 with Richard Taylor. He is the author of the award-winning book Mathematics Without Apologies: Portrait of a Problematic Vocation. He lives in New York City.
Event address:
Book Culture
New York, NY 10025
Can't make it? Reserve a signed copy by calling our store today:

$24.95
ISBN: 9780691158839
Availability: Not in Stock - Available for special order
Published: Princeton University Press - February 5th, 2019
---

$22.95
ISBN: 9780691175836
Availability: On Our Shelves Now - Click Title to See Location Inventory.
Published: Princeton University Press - June 28th, 2017
---