112th: Phoebe Maltz Bovy on The Perils of Privilege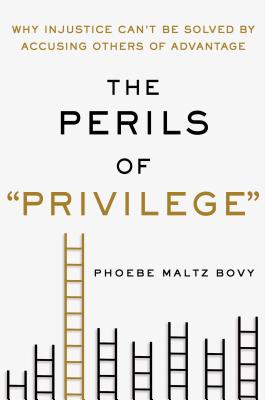 Please join us on Wednesday, March 22nd for a reading and discussion of The Perils of "Privilege": Why Injustice Can't Be Solved by Accusing Others of Advantage with the author, Phoebe Maltz Bovy, and Maria Bowler from Commonweal.
Privilege the word, the idea, the j'accuse that cannot be answered with equanimity is the new rhetorical power play. From social media to academia, public speech to casual conversation, Check your privilege or Your privilege is showing are utilized to brand people of all kinds with a term once reserved for wealthy, old-money denizens of exclusive communities.
Today, privileged applies to anyone who enjoys an unearned advantage in life, about which they are likely oblivious. White privilege, male privilege, straight privilege those conditions make everyday life easier, less stressful, more lucrative, and generally better for those who hold one, two, or all three designations. But what about white female privilege in the context of feminism? Or fixed gender privilege in the context of transgender? Or weight and height privilege in the context of hiring practices and salary levels? Or food privilege in the context of public health? Or two parent, working class privilege in the context of widening inequality for single parent families?
In The Perils of Privilege, Phoebe Maltz Bovy examines the rise of this word into extraordinary potency. Does calling out privilege help to change or soften it? Or simply reinforce it by dividing people against themselves? And is privilege a concept that, in fact, only privileged people are debating?
---
​​Phoebe Maltz Bovy is a writer born and raised in New York City, now living in Toronto. Her essays on privilege have appeared in The New Republic and The Atlantic, among other publications. She has a doctorate in French and French Studies from New York University.
Maria Bowler is a writer and Commonweal magazine's Assistant Digital Editor. She also hosts and curates the Olmsted Salon's monthly literary series.
Can't make it? Reserve a signed copy by calling our store today:

$26.99
ISBN: 9781250091208
Availability: Not in Stock - Available for special order
Published: St. Martin's Press - March 14th, 2017
---