112th: Poetry Book Club's First Meeting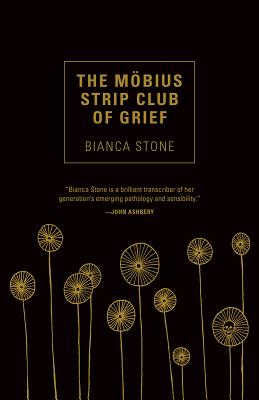 Join the new Contemporary Poetry Book Club as they read Bianca Stone's The Möbius Strip Club of Grief on Tuesday, April 10th at 7:30pm.
The Mobius Strip Club of Grief is a collection of poems that take place in a burlesque purgatory where the living pay--dearly, with both money and conscience--to watch the dead perform scandalous acts otherwise unseen: "$20 for five minutes. I'll hold your hand in my own," one ghost says. "I'll tell you you were good to me." Like Dante before her, Stone positions herself as the living poet passing through and observing the land of the dead. She imagines a feminist Limbo where women run the show and create a space to navigate the difficulties endured in life. With a nod to her grandmother Ruth Stone's poem "The Mobius Strip of Grief," Stone creates a labyrinthine underworld as a way to confront and investigate complicated family relationships in the hopes of breaking the never-ending cycle of grief.
---
The Contemporary Poetry Book Club meets on the second Tuesday of every month at Book Culture on 112th Street to discuss collections of poetry that have been published in the past two years. It aims to read and discuss poets from diverse races, genders, sexualities, and backgrounds. While some of the collections may include experimental or avant-garde poetry, no prior background of education is necessary to join the group. The book club tries to foster discussion, appreciation, and respectful critique of some of the most exciting poetry being published today. If you would like to join the book club, please sign up here. If you have any questions, please email poetrybc@bookculture.com.