112th: On Press with Matthew Pressman
Join us at Book Culture 112 as Matthew Pressman discusses his book, On Press: The Liberal Values That Shaped the News on Wednesday, November 28th at 7pm!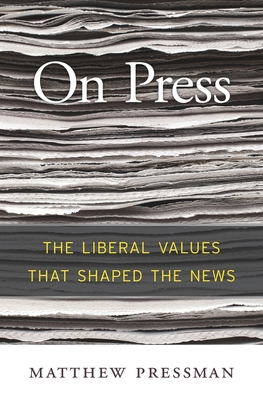 In the 1960s and 1970s, the American press embraced a new way of reporting and selling the news. The causes were many: the proliferation of television, pressure to rectify the news media's dismal treatment of minorities and women, accusations of bias from left and right, and the migration of affluent subscribers to suburbs. As Matthew Pressman's timely history reveals, during these tumultuous decades the core values that held the profession together broke apart, and the distinctive characteristics of contemporary American journalism emerged.
Simply reporting the facts was no longer enough. In a country facing assassinations, a failing war in Vietnam, and presidential impeachment, reporters recognized a pressing need to interpret and analyze events for their readers. Objectivity and impartiality, the cornerstones of journalistic principle, were not jettisoned, but they were reimagined. Journalists' adoption of an adversarial relationship with government and big business, along with sympathy for the dispossessed, gave their reporting a distinctly liberal drift. Yet at the same time, "soft news"--lifestyle, arts, entertainment--moved to the forefront of editors' concerns, as profits took precedence over politics.
Today, the American press stands once again at a precipice. Accusations of political bias are more rampant than ever, and there are increasing calls from activists, customers, advertisers, and reporters themselves to rethink the values that drive the industry. As On Press suggests, today's controversies--the latest iteration of debates that began a half-century ago--will likely take the press in unforeseen directions and challenge its survival.
---
Matthew Pressman is Assistant Professor of Journalism at Seton Hall University and holds a Ph.D. in History from Boston University. He worked for eight years at Vanity Fair, where he was an assistant editor and covered the news media for VF.com—a series of his articles won the 2010 Mirror Award for Best Commentary (digital media). He has also written for The Atlantic, The Washington Post, and Time. His first book, On Press: The Liberal Values that Shaped the News, comes out in November from Harvard University Press.
Event address:
Book Culture
New York, NY 10025