112th: Rachel Heng on Suicide Club with Marisa Siegel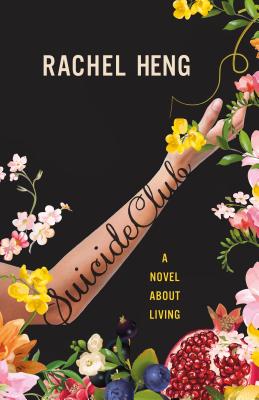 Join us at Book Culture on 112th as Rachel Heng discusses Suicide Club: A Novel About Living with Marisa Siegel on Wednesday, July 18th at 7pm!
In Rachel Heng's debut set in near future New York City--where lives last three hundred years and the pursuit of immortality is all-consuming--Lea must choose between her estranged father and her chance to live forever.
Lea Kirino is a "Lifer," which means that a roll of the genetic dice has given her the potential to live forever--if she does everything right. And Lea is an overachiever. She's a successful trader on the New York exchange--where instead of stocks, human organs are now bought and sold--she has a beautiful apartment, and a fianc who rivals her in genetic perfection. And with the right balance of HealthTech(TM), rigorous juicing, and low-impact exercise, she might never die.
But Lea's perfect life is turned upside down when she spots her estranged father on a crowded sidewalk. His return marks the beginning of her downfall as she is drawn into his mysterious world of the Suicide Club, a network of powerful individuals and rebels who reject society's pursuit of immortality, and instead choose to live--and die--on their own terms. In this future world, death is not only taboo; it's also highly illegal. Soon Lea is forced to choose between a sanitized immortal existence and a short, bittersweet time with a man she has never really known, but who is the only family she has left in the world.
---
Rachel Heng's debut novel, Suicide Club, was published by Henry Holt in July 2018, will be translated in eight languages worldwide and has been featured as a most anticipated summer read by ELLE, Gizmodo, Bitch Media, The Rumpus, NYLON and The Irish Times. Her short fiction has received a Pushcart Prize Special Mention and Prairie Schooner's Jane Geske Award, and has been published in Glimmer Train, The Offing, Prairie Schooner and elsewhere. Rachel is currently a James A. Michener Fellow at the Michener Center for Writers, UT Austin.
Marisa Siegel currently lives, writes, and edits near NYC but thinks twenty times a day about heading back west. She is Editor-in-Chief and owner of The Rumpus. Find her on Twitter at @MARISASAYSTWEET.
Event address:
Book Culture
New York, NY 10025
Can't make it? Reserve a signed copy by calling our store today:

$27.00
ISBN: 9781250185341
Availability: On Our Shelves Now - Click Title to See Location Inventory.
Published: Henry Holt and Co. - July 10th, 2018
---