112th: Robert W. Fieseler on Tinderbox
Please allow 3-4 days for order processing for ALL orders, in addition to shipping times.

We are currently working with very limited staffing and your patience is greatly appreciated. Thank you!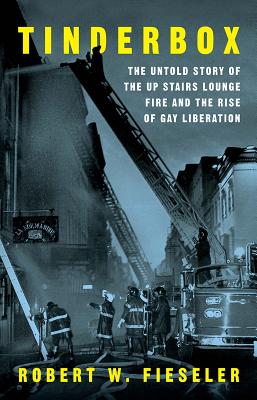 Join us at Book Culture on 112th as Robert W. Fieseler discusses Tinderbox: The Untold Story of the Up Stairs Lounge Fire and the Rise of Gay Liberation on Thursday, June 7th at 7pm. Robert will be joined in discussion with Samuel G. Freedman.
An essential work of American civil rights history, Tinderbox mesmerizingly reconstructs the 1973 fire that devastated New Orleans' subterranean gay community.
Buried for decades, the Up Stairs Lounge tragedy has only recently emerged as a catalyzing event of the gay liberation movement. In revelatory detail, Robert W. Fieseler chronicles the tragic event that claimed the lives of thirty-one men and one woman on June 24, 1973, at a New Orleans bar, the largest mass murder of gays until 2016. Relying on unprecedented access to survivors and archives, Fieseler creates an indelible portrait of a closeted, blue- collar gay world that flourished before an arsonist ignited an inferno that destroyed an entire community. The aftermath was no less traumatic—families ashamed to claim loved ones, the Catholic Church refusing proper burial rights, the city impervious to the survivors' needs—revealing a world of toxic prejudice that thrived well past Stonewall. Yet the impassioned activism that followed proved essential to the emergence of a fledgling gay movement. Tinderbox restores honor to a forgotten generation of civil-rights martyrs.
---
Robert W. Fieseler is a recipient of the Pulitzer Traveling Fellowship and the Lynton Fellowship in Book Writing. A writer for The Big Roundtable, Narratively, and elsewhere, he lives in Boston.
Samuel G. Freedman is an award-winning author, columnist, and professor. A former columnist for The New York Times and a professor at Columbia University, he is the author of the eight acclaimed books including National Book Award finalist Small Victories and Pulitzer Prize finalist The Inheritance, and is currently at work on his ninth, which will be about Hubert Humphrey, Civil Rights, and the 1948 Democratic convention. Freedman has contributed to numerous other publications and websites, including The New Yorker, The Washington Post, Daily Beast, New York, Rolling Stone, USA Today, Salon, Slate, Tablet, The Forward, Ha'aretz, The Undefeated, The Root, and BeliefNet. An award-winning tenured professor at the Columbia University Graduate School of Journalism, Freedman lives in New York with his wife, Christia Chana Blomquist.
Can't make it? Reserve a signed copy by calling our store today:

$26.95
ISBN: 9781631491641
Availability: Not in Stock - Available for special order
Published: Liveright - June 5th, 2018
---