112th: Sally A. Nuamah on How Girls Achieve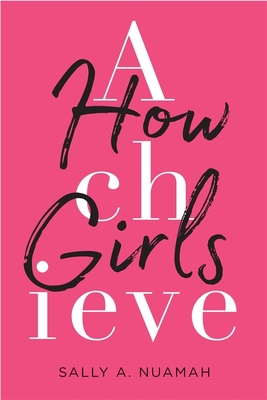 Join us at Book Culture on 112th on Friday, April 19th at 7pm as we welcome Sally A. Nuamah to discuss her new book, How Girls Achieve.
If we want girls to succeed, we need to teach them the audacity to transgress. Through the lives of students at three very different schools, an award-winning scholar-activist makes the case for "feminist schools" that orient girls toward a lifetime of achievement.
This bold and necessary book points out a simple and overlooked truth: most schools never had girls in mind to begin with. That is why the world needs what Sally Nuamah calls "feminist schools," deliberately designed to provide girls with achievement-oriented identities. And she shows how these schools would help all students, regardless of their gender.
Educated women raise healthier families, build stronger communities, and generate economic opportunities for themselves and their children. Yet millions of disadvantaged girls never make it to school--and too many others drop out or fail. Upending decades of advice and billions of dollars in aid, Nuamah argues that this happens because so many challenges girls confront--from sexual abuse to unequal access to materials and opportunities--go unaddressed. But it isn't enough just to go to school. What you learn there has to prepare you for the world where you'll put that knowledge to work.
A compelling and inspiring scholar who has founded a nonprofit to test her ideas, Nuamah reveals that developing resilience is not a gender-neutral undertaking. Preaching grit doesn't help girls; it actively harms them. Drawing on her deep immersion in classrooms in the United States, Ghana, and South Africa, Nuamah calls for a new approach: creating feminist schools that will actively teach girls how and when to challenge society's norms, and allow them to carve out their own paths to success.
---
Sally A. Nuamah is an award-winning scholar, advocate, and filmmaker. She was selected a Change-Maker by the White House and listed as Forbes Magazine's "30 under 30" in education. HerStory, her award-winning documentary on girls and education in Ghana, has been screened across the world and is accessible through Discovery Education. She began the TWII Foundation to provide funding for girls striving to be first in their families to go to college. Most recently, Nuamah was named a postdoctoral fellow at Princeton University and a Women and Public Policy fellow at the Harvard Kennedy School. She is currently Assistant Professor at the Sanford School of Public Policy at Duke University.
Event address:
Book Culture
New York, NY 10025
Can't make it? Reserve a signed copy by calling our store today:

$23.95
ISBN: 9780674980228
Availability: On Our Shelves Now - Click Title to See Location Inventory.
Published: Harvard University Press - April 22nd, 2019
---