112th: Stephanie McCurry on Women's War
Please allow 5-10 days for order processing for ALL orders, in addition to shipping times.

We are currently working with very limited staffing and your patience is greatly appreciated. Thank you!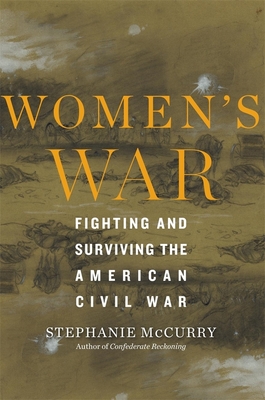 Join us at Book Culture on 112th on Monday, May 13th at 7pm as we welcome Stephanie McCurry to discuss her new book, Women's War: Fighting and Surviving the American Civil War.
The award-winning author of Confederate Reckoning challenges the idea that women are outside of war, through a trio of dramatic stories revealing women's transformative role in the American Civil War.
We think of war as a man's world, but women have always played active roles in times of violence and been left to pick up the pieces in societies decimated by war. In this groundbreaking reconsideration of the Civil War, the award-winning author of Confederate Reckoning invites us to see America's bloodiest conflict not just as pitting brother against brother but as a woman's war.
When the war broke out, Union soldiers assumed Confederate women would be innocent noncombatants. Experience soon challenged this simplistic belief. Through a trio of dramatic stories, Stephanie McCurry reveals the vital and sometimes confounding roles women played on and off the battlefield. We meet Clara Judd, a Confederate spy whose imprisonment for treason sparked heated controversy, defying the principle of civilian immunity and leading to lasting changes in the laws of war. Hundreds of thousands of enslaved women escaped across Union lines, upending emancipation policies that extended only to enslaved men. The Union's response was to classify fugitive black women as "soldiers' wives," regardless of whether they were married--offering them some protection but placing new obstacles on their path to freedom. In the war's aftermath, the Confederate grande dame Gertrude Thomas wrestled with her loss of status and of her former slaves. War, emancipation, and economic devastation affected her family intimately, and through her life McCurry helps us see how fundamental the changes of Reconstruction were.
Women's War dismantles the long-standing fiction that women are outside of war and shows that they were indispensable actors in the Civil War, as they have been--and continue to be--in all wars.
---
Stephanie McCurry is the author of Confederate Reckoning, a finalist for the Pulitzer Prize and winner of the Frederick Douglass Prize, the Merle Curti Prize, the Avery O. Craven Award, and the Willie Lee Rose Prize; and Masters of Small Worlds, winner of the John Hope Franklin Prize and four other awards. She also received a Guggenheim Fellowship. McCurry is the R. Gordon Hoxie Professor of History in Honor of Dwight D. Eisenhower at Columbia University. She grew up in Belfast, Ireland, during the Troubles.
Event address:
Book Culture
New York, NY 10025
Can't make it? Reserve a signed copy by calling our store today:

$26.95
ISBN: 9780674987975
Availability: On Our Shelves Now - Click Title to See Location Inventory.
Published: Belknap Press - April 15th, 2019
---

Email or call for price.
ISBN: 9780674064218
Availability: Not in Stock - Available for special order
Published: Harvard University Press - May 7th, 2012
---