112th: Subhashini Kaligotla on Bird of the Indian Subcontinent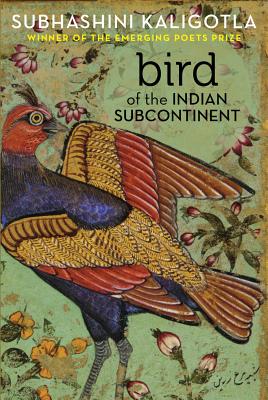 Join us at Book Culture on 112th on Friday, April 5th, at 7pm for a discussion with Subhashini Kaligotla on her book, Bird of the Indian Subcontinent.
Poetry. Asian & Asian American Studies. Art. The poems in this debut collection chart the passage of a metamorphosing self through euphoria, desire, despair, defiance, equanimity, grief, and loneliness. Appropriating freely from diverse poetic sources, the writer gives voice to a polyglot emotional range. Sanskrit poetics, Jazz lyrics, ekphrasis, the locutions of India's poet-saints, and the Anglo-American writing tradition all find place here. The book's chorus of figures--from Christ to Krishna to Caravaggio--move the reader between present and past, myth and history, bird and human, and across cities and continents.
---
Subhashini Kaligotla is a poet and architectural historian of medieval India. A graduate of Columbia University's MFA program in Creative Writing and a Kundiman poetry fellow, she has published in such journals as The Caravan, diode, LUMINA, New England Review , and The Literary Review. Anthology appearances include collections of Indian and diaspora poetry, most notably Penguin India's 60 Indian Poets and The Bloodaxe Book of Contemporary Indian Poets. Kaligotla is Assistant Professor of South Asian Art at Yale University.
Event address:
Book Culture
New York City, NY 10025
Can't make it? Reserve a signed copy by calling our store today:

$19.99
ISBN: 9780986065255
Availability: On Our Shelves Now - Click Title to See Location Inventory.
Published: (Great) Indian Poetry Collective - September 1st, 2018
---