112th: Terese Svoboda on Anything That Burns You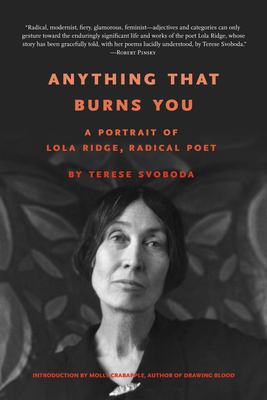 Join us on Monday, March 12th at 7pm as Terese Svoboda discusses Anything That Burns You: A Portrait of Lola Ridge, Radical Poet at Book Culture on 112th! Terese will be joined in conversation by Ajay Chaudhary.
The first full-length biography of Lola Ridge, a trailblazer for women, poetry, and human rights far ahead of her time.
This is a rich and detailed account of the life and world of Lola Ridge, poet, artist, editor, and activist for the cause of women's rights, workers' rights, racial equality and social reform. Author Svoboda takes the reader on a fascinating journey from Ridge's childhood as a newly arrived Irish immigrant in the grim mining towns of New Zealand to her years as a budding poet and artist in Sydney, Australia, to her migration to America and the cities of San Francisco, Chicago, and New York. At one time considered one of the most popular poets of her day, she later fell out of critical favor due to her realistic and impassioned verse that looked head on at the major social woes of society. Moreover, her work and appearances alongside the likes of Margaret Sanger, Emma Goldman, Will Durant, and other socialists and radicals put her in the line of fire not only of the police and government, but also the literary pundits who criticized her activism as being excessive and melodramatic. This lively portrait gives a veritable who's who of all the key players in the arts, literature, and radical politics of the time, in which Lola Ridge stood front and center.
---
"Terese Svoboda is one of those writers you would be tempted to read regardless of the setting or the period or the plot or even the genre."--Bloomsbury Review.
Along with Anything That Burns You: A Portrait of Lola Ridge, A Radical Poet, Terese Svoboda has published 6 books of fiction, 7 books of poetry, a memoir, and a book of translation from the Sudanese. Winner of a Guggenheim, a Bobst Prize in fiction, an Iowa Prize for poetry, a NEH grant for translation, an O. Henry Award for the short story, the Graywolf Nonfiction Prize, 3 NYFA fellowships, a Pushcart Prize for the essay, a Bellagio Fellowship for libretto, and the Jerome Foundation Award in video, she also wrote the libretto for the opera WET that premiered at L.A.'s RedCat Theater.
Ajay Singh Chaudhary is the founding and current executive director of the Brooklyn Institute for Social Research. He holds a Ph.D. from Columbia University's Institute for Comparative Literature and Society through the MESAAS department specializing in comparative philosophy, an M.Sc. in Culture and Society from the London School of Economics, an M.A. and M.Phil in Middle Eastern Studies from Columbia University. His research focuses on comparative philosophy, social and political theory, Frankfurt School critical theory, religion, political economy, media studies, and post-colonial studies. He has written for the Los Angeles Review of Books, Quartz, Social Text, Dialectical Anthropology, The Jewish Daily Forward, Filmmaker Magazine, 3quarksdaily, among other venues.
Can't make it? Reserve a signed copy by calling our store today:

$18.95
ISBN: 9781943156573
Availability: Not in Stock - Available for special order
Published: Schaffner Press, Inc. - April 2018
---