112th: Travis Jeppesen on See You Again in Pyongyang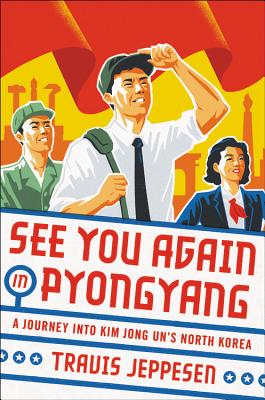 Join us at Book Culture on 112th as Travis Jeppesen discusses his new book See You Again in Pyongyang: A Journey into Kim Jong Un's North Korea on Thursday, May 31st at 7pm!
From ballistic missile tests to stranger-than-fiction stories of purges and assassinations, news from North Korea never fails to dominate the global headlines. But what is life there actually like?
In See You Again in Pyongyang, Travis Jeppesen culls from his experiences living, traveling, and studying in North Korea to create a multi-faceted portrait of the country and its idiosyncratic capital city. Not quite memoir, not quite travelogue, not quite history book, Jeppesen offers a poignant and utterly original examination of the world's strangest country.
Anchored by the experience of his five trips to North Korea, Jeppesen weaves in his observations and interactions with citizens from all walks of life, constructing a narrative rich in psychological detail, revealing how the North Korean system actually functions and perpetuates itself in the day-to-day, beyond the propaganda-fueled ideology.
He challenges the Western notion that Pyongyang is merely a "showcase capital" where everything is staged for the benefit of foreigners, as well as the idea that Pyongyangites are brainwashed robots. Going beyond the clichés of "taboo tourism" and the "good versus evil" tenor of politicians and media reports, See You Again in Pyongyang is an essential addition to the literature about one of the world's most fascinating and mysterious places.
---
Travis Jeppesen is the author of three novels, two volumes of poetry, a stage play, and a collection of art criticism. His critical writings on art, film, and literature have appeared in Artforum, Afterall, The Believer, Art in America, Texte zur Kunst, Flash Art, New York Press, Bookforum, The Stranger, and Zoo Magazine. He is the recipient of a 2013 Arts Writers Grant from Creative Capital / the Warhol Foundation, and has taught as a visiting tutor in the art department at Goldsmiths University and as a visiting lecturer in Critical Writing in Art and Design at the Royal College of Art, where he recently completed his PhD. An exhibition and publication of his calligraphic work, New Writing, was launched at Exile, Berlin, in May 2016.
Can't make it? Reserve a signed copy by calling our store today:

$28.00
ISBN: 9780316509152
Availability: Not in Stock - Available for special order
Published: Hachette Books - May 29th, 2018
---