Columbus: Alison Leslie Gold on Found and Lost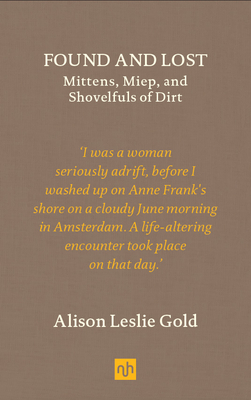 Join us at Book Culture on Columbus to celebrate the release of Alison Leslie Gold's Found and Lost: Mittens, Miep, and Shovelfuls of Dirt on Wednesday, April 4th at 7pm! Alison will be joined in conversation by Phillip Lopate.
Click here to RSVP on Facebook!
A luminous memoir from the Holocaust writer, Alison Leslie Gold, told through a series of letters to the living and the dead.
Alison Leslie Gold is best known for her works that have kept alive stories from the time of the Holocaust, stories of courage and survival - most famously her Anne Frank Remembered, co-authored with Miep Gies (who risked her life to protect the Frank family). She has never chosen to write about her own life or what made her into a gatherer of other people's stories, until now, in Found and Lost.
Starting with her childhood experience of running her primary school 'Lost and Found' depot, Gold charts the origin of her need to save objects, stories, people - including herself - whom she has sensed to be on a road to perdition. After a series of deaths of people close to her (mother, lover, mentor, friend), she develops, though a series of letters, a meditation on aging, friendship, loss and the forces that link us to the dead. The letters tell of her early activism; her descent into alcoholism and subsequent recovery; and they tell of her discovery of the power of writing to give shape and meaning to a life. Found and Lost is both a tender memorial to the extraordinary people in her life, and a compelling tale of redemption.
---
Alison Leslie Gold's works include Anne Frank Remembered (written with Miep Gies), Memories of Anne Frank: Reflections of a Childhood Friend, A Special Fate, and Fiet's Vase and Other Stories of Survival. Her nonfiction work has received numerous tributes, including a Best of the Best Award from the American Library Association, a Notable Book for a Global Society Award, and a Christopher Award. She has also published fiction, including Clairvoyant and The Devil's Mistress: The Diary of Eva Braun, the Woman Who Lived and Died with Hitler, the latter being nominated for a National Book Award. She divides her time between New York City and Greece.
Phillip Lopate is a central figure in the resurgence of the American essay, both through his best-selling anthology The Art of the Personal Essay and his collections, Bachelorhood, Against Joie de Vivre, Portrait of My Body, Portrait Inside My Head, and To Show and to Tell: The Craft of Literary Nonfiction. He directs the nonfiction MFA program at Columbia University, where he is Professor of Writing.
Can't make it? Reserve a signed copy by calling our store today:

$18.95
ISBN: 9781910749593
Availability: Not in Stock - Available for special order
Published: Notting Hill Editions - March 6th, 2018
---