Columbus: Amy Poeppel on Limelight
Please allow 5-10 days for order processing for ALL orders, in addition to shipping times.

We are currently working with very limited staffing and your patience is greatly appreciated. Thank you!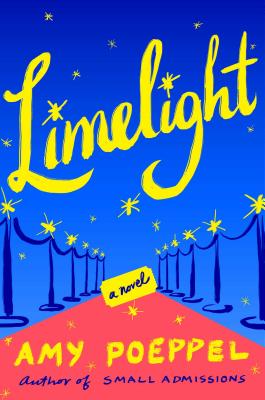 Join us at Book Culture on Columbus as Amy Poeppel discusses Limelight on Wednesday, May 2nd at 7pm. Amy will be joined in conversation with Carly Robins.
In a smart and funny new novel by the author of the critically acclaimed, "big-hearted, charming" (The Washington Post) Small Admissions, a family's move to New York City brings surprises and humor as their lives merge with the captivating world of Broadway.
Allison Brinkley--wife, mother, and former unflappable optimist--discovers that a carefully weighed decision to pack up and move her family from suburban Dallas to the glittery chaos of Manhattan may have been more complicated than she and her husband initially thought.
Allison learns that New York is unruly and bewildering, defying the notions she developed from romantic movies and a memorable childhood visit. After a humiliating call from the principal's office and the loss of the job she was counting on, Allison begins to accept that New York may not suit her after all.
When Allison has a fender-bender, witnessed by a flock of mothers at her son's new school, she is led to the penthouse apartment of a luxurious Central Park West building and encounters a spoiled, hungover, unsupervised teenager who looks familiar. It doesn't take long to recognize him as Carter Reid--a famous pop star who has been cast in a new Broadway musical. Through this brush with stardom, Allison embraces a unique and unexpected opportunity that helps her find her way in the heart of Manhattan.
In a book that delivers laughs, warmth, and delightful wish fulfillment, Poeppel dives into celebrity culture and modern motherhood with her trademark "quick-witted and razor-sharp" (Taylor Jenkins Reid, author of Maybe in Another Life) style.
---
Amy Poeppel grew up in Dallas, Texas. She graduated from Wellesley College and worked as an actress in the Boston area, appearing in a corporate industrial for Polaroid, a commercial for Brooks Pharmacy, and a truly terrible episode of America's Most Wanted, along with other TV spots and several plays. While in Boston, she also got her Masters in Teaching from Simmons College. She blogged weekly in 2017 for The Debutante Ball. Her writing has appeared on The Rumpus, Working Mother, Bookish, The Higgs Weldon, In The Powder Room, and Literary Mama.
Carly Robins is an actress and voice over artist and has narrated over 350 audiobooks. And is thrilled and honored to be the voice of Limelight her second title with Amy Poeppel following Small Admissions. While still relatively new to the medium, she has completely fallen in love. Her voice can also be heard on video games, promos, commercials, animation and ESL. She has performed for ten years in the NYC area and has written and produced her own work for stage and screen. She loves to cook, bake and talk about food for days and take long walks with her adorable dog Riley. www.carlyrobins.com
Can't make it? Reserve a signed copy by calling our store today:

Email or call for price.
ISBN: 9781501176371
Availability: Hard to Find
Published: Atria/Emily Bestler Books - May 1st, 2018
---