Columbus: Bill Goldstein with Wayne Koestenbaum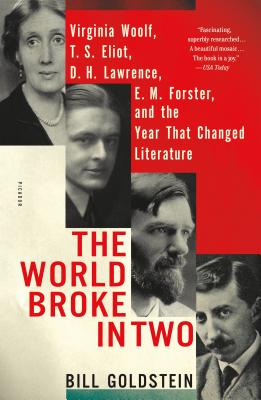 Join us at Book Culture on Columbus for a celebration of the paperback release of Bill Goldstein's, The World Broke in Two: Virginia Woolf, T. S. Eliot, D. H. Lawrence, E. M. Forster, and the Year That Changed Literature, on Wednesday, September 5th at 7pm! He will be interviewed by Wayne Koestenbaum.
A revelatory narrative of the intersecting lives and works of revered authors Virginia Woolf, T. S. Eliot, E. M. Forster and D. H. Lawrence during 1922, the birth year of modernism
The World Broke in Two tells the fascinating story of the intellectual and personal journeys four legendary writers, Virginia Woolf, T. S. Eliot, E. M. Forster, and D. H. Lawrence, make over the course of one pivotal year. As 1922 begins, all four are literally at a loss for words, confronting an uncertain creative future despite success in the past. The literary ground is shifting, as Ulysses is published in February and Proust's In Search of Lost Time begins to be published in England in the autumn. Yet, dismal as their prospects seemed in January, by the end of the year Woolf has started Mrs. Dalloway, Forster has, for the first time in nearly a decade, returned to work on the novel that will become A Passage to India, Lawrence has written Kangaroo, his unjustly neglected and most autobiographical novel, and Eliot has finished--and published to acclaim--"The Waste Land."
As Willa Cather put it, "The world broke in two in 1922 or thereabouts," and what these writers were struggling with that year was in fact the invention of modernism. Based on original research, Bill Goldstein's The World Broke in Two captures both the literary breakthroughs and the intense personal dramas of these beloved writers as they strive for greatness.
---
Bill Goldstein, the founding editor of the New York Times books website, reviews books and interviews authors for NBC's "Weekend Today in New York." He is also curator of public programs at Roosevelt House, the public policy institute of New York's Hunter College. A graduate of the University of Chicago, Goldstein received a Ph.D in English from City University of New York Graduate Center in 2010. He is the author of The World Broke in Two: Virginia Woolf, T. S. Eliot, D. H. Lawrence, E. M. Forster and the Year that Changed Literature, published last year by Henry Holt, and now out in paperback from Picador. He is the recipient of writing fellowships at MacDowell, Yaddo, Ucross and elsewhere for his work on the book.
Wayne Koestenbaum has published nineteen books of poetry, criticism, and fiction, including Notes on Glaze, The Pink Trance Notebooks, My 1980s & Other Essays, Hotel Theory, Best-Selling Jewish Porn Films, Andy Warhol, Humiliation, Jackie Under My Skin, and The Queen's Throat (a National Book Critics Circle Award finalist). His newest book of poetry, Camp Marmalade, was published this spring. He has exhibited his paintings in solo shows at White Columns (New York), 356 Mission (L.A.), and the University of Kentucky Art Museum. His first piano/vocal record, Lounge Act, was released by Ugly Duckling Presse Records in 2017; he has given musical performances at The Kitchen, REDCAT, Centre Pompidou, The Walker Art Center, and the Renaissance Society. He is a Distinguished Professor of English, Comparative Literature, and French at the CUNY Graduate Center in New York City.
Event address:
Book Culture on Columbus
New York, NY 10024
Can't make it? Reserve a signed copy by calling our store today:

$18.00
ISBN: 9781250182500
Availability: On Our Shelves Now - Click Title to See Location Inventory.
Published: Picador - August 7th, 2018
---

$18.95
ISBN: 9781937658779
Availability: On Our Shelves Now - Click Title to See Location Inventory.
Published: Nightboat Books - March 6th, 2018
---