Columbus: Cracking the Cube with Ian Scheffler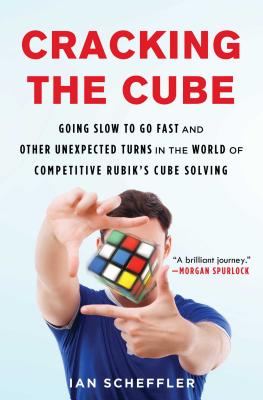 Join us Tuesday, September 19th at 7pm as Book Culture on Columbus presents Ian Scheffler's Cracking the Cube: Going Slow to Go Fast and Other Unexpected Turns in the World of Competitive Rubik's Cube Solving. Ian will be joined by Patrick Ponce, one of the top 10 cubers in the world, for a discussion and Q&A, followed by a competition and signing.
In Cracking the Cube, Ian Scheffler reveals that cubing isn't just fun and games. Along with participating in speedcubing competitions--from the World Championship to local tournaments--and interviewing key figures from the Cube's history, he journeys to Budapest to seek a meeting with the legendary and notoriously reclusive Rubik, who is still tinkering away with puzzles in his seventies.
Getting sucked into the competitive circuit himself, Scheffler becomes engrossed in solving Rubik's Cube in under twenty seconds, the quasi-mystical barrier known as "sub-20," which is to cubing what four minutes is to the mile: the difference between the best and everyone else. As Scheffler learns from the many gurus who cross his path, from pint-sized kids to engineering professors, it's not just about memorizing algorithms or even solving all six sides--it's about discovering how to solve yourself.
---
Ian Scheffler's ties to the Cube go back to his childhood, as does his interest in math, science, and engineering. In 2008 his team won the US Department of Energy's National Science Bowl, a Jeopardy-style competition, and he traveled as a delegate to the 49th London International Youth Science Forum. He has written for The New Yorker, The Guardian, Los Angeles Times, and the Los Angeles Review of Books. He holds a degree in English from Columbia University, where he co-edited the Columbia Review. He lives in New York City.
Patrick Ponce is among the top 10 speed cubers in the world. His best average of five solves is 7.11 seconds and his best single solve is 5.37 seconds. He's won more than 50 competitions since he started cubing and was a finalist at the 2017 World Championship, in Paris. He's also among the best in the world at the 4x4, 5x5, and solving the classic 3x3 one-handed. He grew up in Perth Amboy, NJ, and is currently in high school.
Can't make it? Reserve a signed copy by calling our store today:

$16.00
ISBN: 9781501121937
Availability: On Our Shelves Now - Click Title to See Location Inventory.
Published: Touchstone Books - July 4th, 2017
---