Columbus: Dawn Drzal on The Bread and the Knife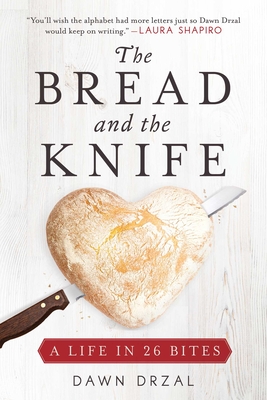 Join us at Book Culture on Columbus for a discussion with Dawn Drzal on The Bread and the Knife: A Life in 26 Bites, on Thursday, September 27th at 7pm! Dawn will be joined in conversation with Susan Buckley.
"You'll wish the alphabet had more letters just so Dawn Drzal would keep on writing."―Laura Shapiro, author of What She Ate, Julia Child, Something from the Oven, and Perfection Salad
As it was for M. F. K. Fisher in The Gastronomical Me, food is more than a metaphor in The Bread and the Knife. It is the organizing principle of an existence. Starting with "A Is for Al Dente," the loosely linked chapters evoke an alphabet of food memories that recount a woman's emotional growth from the challenges of youth to professional accomplishment, marriage, and divorce. Betrayal is embodied in an overripe melon, her awakening in a B arnaise sauce. Passion fruit juice portends the end of a first marriage, while tarte Tatin offers redemption. Each letter serves up a surprising variation on the struggle for self-knowledge, the joy and pain of familial and romantic love, and food's astonishing ability to connect us with both the living and the dead.
Ranging from her grandmother's suburban kitchen to an elegant New York restaurant, a longhouse in Borneo, and a palace in Rajasthan, The Bread and the Knife charts the vicissitudes of a woman forced to swallow some hard truths about herself while discovering that the universe can dispense surprising second chances.
The book includes six recipes that run the gamut from "Crepes Filled with Huitlacoche" to her stepfather's homely "Stromboli Stuffing," including a couple that are more entertaining to read about than to prepare, like liquified olives with pimento.
---
Dawn Drzal, a former cookbook editor, has published articles and essays in the New York Times, the New York Times Sunday Magazine, Food & Wine, O., and the Antioch Review. Between 2006 and 2016, she was a regular contributor to the New York Times Book Review. Her essays have been anthologized in, among other places, Eat Memory: Great Writers at the Table, edited by Amanda Hesser. She lives in New York City with her son.
Susan Buckley, author of Eating with Peter, is a New York based writer, editor, and consultant. The co-author of five YA books on American history with Elspeth Leacock, she and Leacock co-authored Turning 15 on the Road to Freedom with Lynda Blackmon Lowery.
Event address:
Book Culture on Columbus
New York, NY 10024
Can't make it? Reserve a signed copy by calling our store today:

$19.99
ISBN: 9781628729238
Availability: Not in Stock - Available for special order
Published: Arcade - September 11th, 2018
---

$22.99
ISBN: 9781628728750
Availability: Not in Stock - Available for special order
Published: Arcade - March 20th, 2018
---