Columbus: Essays Book Club reads The New York Times's Footsteps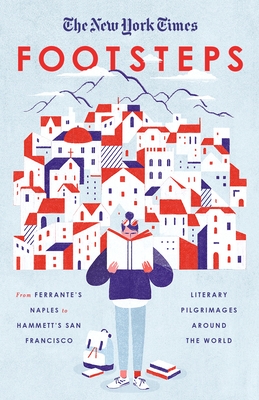 Join us as Essays Book Club reads Footsteps on September 13th at Book Culture on Columbus. Note: While Essays Book Club usually meets at Book Culture on 112th, September's meeting will be at Book Culture on Columbus, due to the back-to-school rush at Book Culture on 112th.
A curated collection of the New York Times' travel column, "Footsteps," exploring iconic authors' relationships to landmarks and cities around the world

Before Nick Carraway was drawn into Daisy and Gatsby's sparkling, champagne-fueled world in The Great Gatsby, F. Scott Fitzgerald vacationed in the French Riviera, where a small green lighthouse winked at ships on the horizon. Before the nameless lovers began their illicit affair in The Lover, Marguerite Duras embarked upon her own scandalous relationship amidst the urban streets of Saigon. And before readers were terrified by a tentacled dragon-man called Cthulhu, H.P. Lovecraft was enthralled by the Industrial Trust tower-- the 26-story skyscraper that makes up the skyline of Providence, Rhode Island.
Based on the popular New York Times travel column, Footsteps is an anthology of literary pilgrimages, exploring the geographic muses behind some of history's greatest writers. From the "dangerous, dirty and seductive" streets of Naples, the setting for Elena Ferrante's famous Neapolitan novels, to the "stone arches, creaky oaken doors, and riverside paths" of Oxford, the backdrop for Alice's adventures in Wonderland, Footsteps takes a fresh approach to literary tourism, appealing to readers and travel enthusiasts alike.
---
The Essays Book Club meets on the second Wednesday of every month to discuss a collection of essays. This group meets at Book Culture on 112th. Though the essay is a famously ancient form, this book club will focus largely on more contemporary essays. We will read collections by a variety of writers—men and women, experimental and traditional authors, from America and abroad—across a wide range of topics. Discussions will focus on both the subject matter of the books and the techniques employed by their authors. If you have questions or would like to join the book club, please email essaysbc@bookculture.com.