Please allow 2-4 days for order processing for ALL orders, in addition to shipping times.

We are currently working with very limited staffing and your patience is greatly appreciated. Thank you!
Columbus: Harper's Magazine Presents Scott Pelley on Truth Worth Telling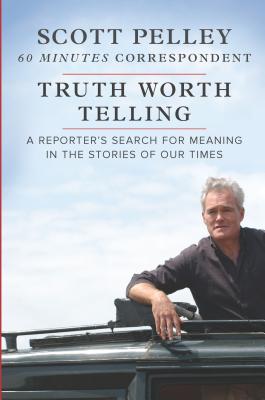 Join Harper's Magazine and Book Culture on Columbus for a discussion with CBS's Scott Pelley as he discusses his new memoir, Truth Worth Telling: A Reporter's Search for Meaning in the Stories of Our Times on Tuesday, May 21st at 7pm.
An inspiring memoir from the frontlines of history by the award-winning 60 Minutescorrespondent.Don't ask the meaning of life. Life is asking, what's the meaning of you?With this provocative question, Truth Worth Telling introduces us to unforgettable people who discovered the meaning of their lives in the historic events of our times.A 60 Minutes correspondent and former anchor of the CBS Evening News, Scott Pelley writes as a witness to events that changed our world. In moving, detailed prose, he stands with firefighters at the collapsing World Trade Center on 9/11, advances with American troops in combat in Afghanistan and Iraq, and reveals private moments with presidents (and would-be presidents) he's known for decades. Pelley also offers a resounding defense of free speech and a free press as the rights that guarantee all others.Above all, Truth Worth Telling offers a collection of inspiring tales that reminds us of the importance of values in uncertain times. For readers who believe that values matter and that truth is worth telling, Pelley writes, "I have written this book for you."
---
Scott Pelley has been a reporter and photographer more than forty-five years. He is best known for his 20 years (and counting) on the CBS News magazine 60 Minutes and as anchor and managing editor of the CBS Evening News (2011-2017). Pelley's work has been recognized with three duPont-Columbia Awards, three Peabody Awards, and thirty-seven national Emmy Awards bestowed by the Academy of Television Arts and Sciences. Pelley is the most awarded correspondent in the fifty-one-year history of 60 Minutes. In 2016, in accepting the Walter Cronkite Award, Pelley said, "I receive too much credit for the work of others. I have never accomplished anything in journalism without photographers, producers and editors. Hundreds of people at CBS News have given me my career, but one person has given me a life, my lovely wife, Jane." Pelley has been married to the love of his life for thirty-five years. They have two children.
Event address:
Book Culture on Columbus
New York, NY 10024
Can't make it? Reserve a signed copy by calling our store today:

$26.99
ISBN: 9781335999146
Availability: Not in Stock - Available for special order
Published: Hanover Square Press - May 21st, 2019
---