Columbus: Harper's Presents David Faris on It's Time to Fight Dirty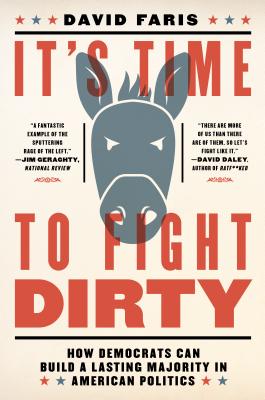 Join Book Culture on Columbus and Harper's Magazine on Thursday, May 3rd at 7pm as David Faris discusses It's Time to Fight Dirty: How Democrats Can Build a Lasting Majority in American Politics at Book Culture on Columbus!
To be published before the 2018 midterm elections, an accessible, actionable blueprint for how Democrats can build a lasting majority
The American electoral system is clearly failing--more horrifically in the 2016 presidential election than ever before. In It's Time to Fight Dirty, David Faris expands on his popular series for "The Week" to offer party leaders and supporters concrete strategies for lasting political reform--and in doing so lays the groundwork for a more progressive future. With equal parts playful irreverence and persuasive reasoning, It's Time to Fight Dirty is essential reading as we head toward the 2018 midterms . . . and beyond.
---
David Faris is an Associate Professor of Political Science at Roosevelt University in Chicago. He is the author of Dissent and Revolution in a Digital Age: Social Media, Blogging and Activism in Egypt and Social Media in Iran: Politics and Society After 2009. He holds a PhD in Political Science from the University of Pennsylvania and is a regular contributor to "The Week." He lives in Chicago.
John R. MacArthur is the president and publisher of Harper's Magazine. An award-winning journalist, he has previously written for The New York Times, United Press International, The Chicago Sun-Times, and The Wall Street Journal. He is also the author of the acclaimed books The Selling of Free Trade: NAFTA, Washington, and the Subversion of American Democracy, and Second Front: Censorship and Propaganda in the Gulf War. He lives in New York City.
Can't make it? Reserve a signed copy by calling our store today:

$24.99
ISBN: 9781612196954
Availability: Not in Stock - Available for special order
Published: Melville House - April 10th, 2018
---