Please allow 2-4 days for order processing for ALL orders, in addition to shipping times.

We are currently working with very limited staffing and your patience is greatly appreciated. Thank you!
Columbus: Harper's Presents D.D. Guttenplan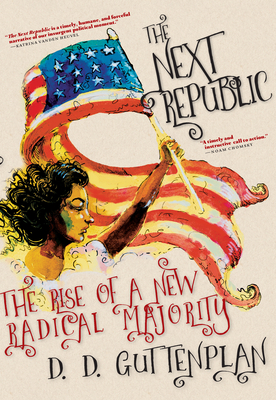 Join us as Harper's Magazine and Book Culture on Columbus present D.D. Guttenplan on his new book The Next Republic: The Rise of a New Radical Majority on Tuesday, October 2nd at 7pm! D.D. Guttenplan will be joined in conversation by Harper's president Rick MacArthur!
Who are the new progressive leaders emerging to lead the post-Trump return to democracy in America? National political correspondent and award-winning author D.D. Guttenplan's The Next Republic is an extraordinarily intense and wide-ranging account of the recent fall and incipient rise of democracy in America.
The Next Republic profiles nine successful activists who are changing the course of American history right now. Additionally, the introduction to The Next Republic ties in the election and first year of the Trump presidency to the current rise of populism of the left, and there are three historical chapters that describe key moments in American history that shed light on current events: the Whiskey Rebellion, the Lincoln Republic, and the Roosevelt Republic. Guttenplan understands the magnitude of the problem of democracy, and at the same time the great possibilities for its resurgence. Like a cross between George Packer's The Unwinding and John F. Kennedy's Profiles in Courage, The Next Republic is both unyielding and deeply hopeful, the first book to come out of the Trump ascendency that stakes a claim for seeing beyond it.
---
As the lead Nation election correspondent throughout the 2015-16 election season, D.D. Guttenplan set the highest standard for election reporting, traveling across the country throughout the primary season, present at the major speeches and rallies of all the candidates, offering deep as well as topical coverage in dozens of articles including many that graced the Nation magazine's cover. Guttenplan's first book, The Holocaust on Trial, was highly praised in The New Yorker and elsewhere. His biography of I.F. Stone, American Radical: The Life and Times of I.F. Stone won the Sperber Prize for Biography. Guttenplan wrote and presented two radio documentaries for the BBC, Guns: An American Love Affair, and War, Lies and Audiotape, about the Gulf of Tonkin incident, as well as producing an acclaimed film, Edward Said: The Last Interview. A former editor at Vanity Fair, senior editor at the Village Voice, and media columnist at New York Newsday, Guttenplan's reporting on the Happy Land Social Club fire in the Bronx won a Page One Award from the New York Newspaper Guild. His investigative reporting on New York City's fire code was a finalist for the Pulitzer Prize. He divides his time between homes in the U.S. in Vermont and London, England.
Event address:
Book Culture on Columbus
New York, NY 10024
Can't make it? Reserve a signed copy by calling our store today:

$23.95
ISBN: 9781609808563
Availability: Not in Stock - Available for special order
Published: Seven Stories Press - October 2nd, 2018
---