Columbus: Harper's Presents Roy Scranton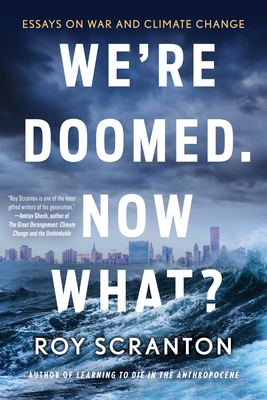 Join us as Harper's Magazine and Book Culture on Columbus present Roy Scranton on his new book We're Doomed. Now What?: Essays on War and Climate Change on Tuesday, August 7th at 7pm.
An American Orwell for the age of Trump, Roy Scranton faces the unpleasant facts of our day with fierce insight and honesty. We're Doomed. Now What? penetrates to the very heart of our time.
Our moment is one of alarming and bewildering change--the breakup of the post-1945 global order, a multispecies mass extinction, and the beginning of the end of civilization as we know it. Not one of us is innocent, not one of us is safe. Now what?
We're Doomed. Now What? addresses the crisis that is our time through a series of brilliant, moving, and original essays on climate change, war, literature, and loss, from one of the most provocative and iconoclastic minds of his generation. Whether writing about sailing through the melting Arctic, preparing for Houston's next big storm, watching Star Wars, or going back to the streets of Baghdad he once patrolled as a soldier, Roy Scranton handles his subjects with the same electric, philosophical, demotic touch that he brought to his groundbreaking New York Times essay, "Learning How to Die in the Anthropocene.
---
Roy Scranton is the author of War Porn and Learning to Die in the Anthropocene, and co-editor of Fire and Forget: Short Stories from the Long War. His journalism, essays, and fiction have been published in The Nation, Rolling Stone, The New York Times, Boston Review, and elsewhere. He holds a PhD in English from Princeton and an MA from the New School for Social Research, and teaches in the Department of English at the University of Notre Dame.
Event address:
Book Culture on Columbus
New York, NY 10024
Can't make it? Reserve a signed copy by calling our store today:

Email or call for price
ISBN: 9781616959364
Availability: Not in Stock - Subject to Availability
Published: Soho Press - July 17th, 2018
---