Columbus: Janet Capron on Blue Money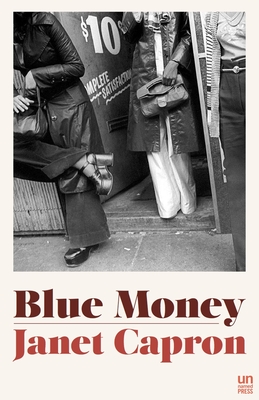 Please join us Thursday, June 29th at 7pm for a special event with Janet Capron on her new book Blue Money.
New York City, 1971, a balmy August evening: Just seven blocks from her childhood home, a young woman walks into a Park Avenue apartment and into the troubled arms of her first trick.
So begins Blue Money--a mostly true account of life in New York's gritty downtown scene-- and an intimate, no-holds-barred portrait of prostitution in the lawless era before AIDS and the War on Drugs.
Janet quickly embraces "the Life" and despite a ferocious addiction to speed and semi-frequent hallucinations, she manages to keep things professional, whether she's dressed as a genie at the Sultan's Retreat or playing Eve in a live sex show. But her past is catching up to her, and the fast life can't go on forever. The brothels and ginmills become increasingly hard to navigate as the streets turn violent and her own intense love affairs collapse.
Janet Capron is a writer based in New York City. She holds an MFA in Creative Writing from Columbia University. Blue Money is a memoir based on her time as a prostitute in the early 1970s.
Can't make it? Reserve a signed copy by calling our store today:

$16.00

ISBN: 9781944700263
Availability: Not In Stock - Usually ships in 3-5 Days
Published: Unnamed Press - June 20th, 2017
---