Columbus: John Burnham Schwartz on The Red Daughter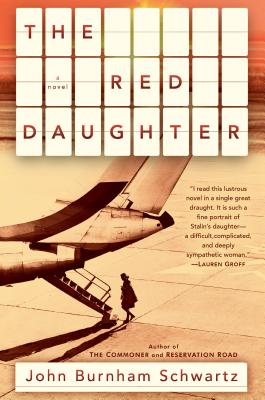 Join us at Book Culture on Columbus as John Burnham Schwartz discusses his new book, The Red Daughter, on Wednesday, May 1st at 7pm! Larissa MacFarquhar will be joining John in discussion.
Running from her father's brutal legacy, Joseph Stalin's daughter defects to the United States during the turbulence of the 1960s. For fans of We Were the Lucky Ones and A Gentleman in Moscow, this sweeping historical novel and unexpected love story is inspired by the remarkable life of Svetlana Alliluyeva.

"I read this lustrous novel in a single great draught. It is such a fine portrait of Stalin's daughter—a difficult, complicated, and deeply sympathetic woman."—Lauren Groff

In one of the most momentous events of the Cold War, Svetlana Alliluyeva, the only daughter of the Soviet despot Joseph Stalin, abruptly abandoned her life in Moscow in 1967, arriving in New York to throngs of reporters and a nation hungry to hear her story. By her side is Peter Horvath, a young lawyer sent by the CIA to smuggle Svetlana into America.

She is a contradictory celebrity: charismatic and headstrong, lonely and haunted, excited and alienated by her adopted country's radically different society. Persuading herself that all she yearns for is a simple American life, she attempts to settle into a suburban existence in Princeton, New Jersey. But one day an invitation from the widow of the architect Frank Lloyd Wright arrives, and Svetlana impulsively joins her cultlike community at Taliesin West. When this dream ends in disillusionment, Svetlana reaches out to Peter, the one person who understands how the chains of her past still hold her prisoner. Their relationship changes and deepens, moving from America to England to the Soviet Union and back again, unfolding under the eyes of her CIA minders, and Svetlana's and Peter's private lives are no longer their own.

Novelist John Burnham Schwartz's father was in fact the young lawyer who escorted Svetlana Alliluyeva to the United States. Drawing upon private papers and years of extensive research, Schwartz imaginatively re-creates the story of an extraordinary, troubled woman's search for a new life and a place to belong, in the powerful, evocative prose that has made him an acclaimed author of literary and historical fiction.
---
John Burnham Schwartz is the bestselling author of five novels, includingNorthwest Corner, The Commoner, and Reservation Road, which was made into a film based on his screenplay. His books have been translated into twenty languages, and he has done extensive screen and television writing for the major Hollywood studios, including as screenwriter of HBO Films' The Wizard of Lies starring Robert De Niro and Michelle Pfeiffer, for which he was nominated for a 2018 Writers Guild of America Award for Outstanding Writing. Literary Director of the Sun Valley Writers' Conference, he lives in Brooklyn with his wife, writer Aleksandra Crapanzano, and their son Garrick.
Larissa MacFarquhar is a staff writer at The New Yorker magazine. Her profile subjects have included Barack Obama, the novelist Hilary Mantel, the poet John Ashbery, the philosopher Derek Parfit, and the internet icon Aaron Swartz, among many others. She lives in Brooklyn, New York. In the spring of 2016 she will be teaching in the creative writing department at Stanford University.
Event address:
Book Culture on Columbus
New York, NY 10024
Can't make it? Reserve a signed copy by calling our store today:

$26.00
Email or call for price
ISBN: 9781400068463
Published: Random House - April 30th, 2019
---

$18.00
Email or call for price
ISBN: 9780143109785
Published: Penguin Books - September 27th, 2016
---