Columbus: Lighting the Fires of Freedom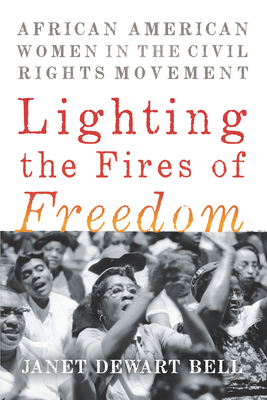 Join us at Book Culture on Columbus as Janet Dewart Bell discusses her book Lighting the Fires of Freedom on Wednesday, August 1st at 7pm!
A groundbreaking collection based on oral histories that brilliantly plumb the leadership of African American women in the twentieth-century fight for civil rights--many nearly lost to history--from the latest winner of the Studs and Ida Terkel Prize
During the Civil Rights Movement, African American women were generally not in the headlines; they simply did the work that needed to be done. Yet despite their significant contributions at all levels of the movement, they remain mostly invisible to the larger public. Beyond Rosa Parks, Coretta Scott King, and Dorothy Height, most Americans, black and white alike, would be hard-pressed to name other leaders at the community, local, and national levels.
In Lighting the Fires of Freedom Janet Dewart Bell shines a light on women's all-too-often overlooked achievements in the Movement. Through wide-ranging conversations with nine women, several now in their nineties with decades of untold stories, we hear what ignited and fueled their activism, as Bell vividly captures their inspiring voices. Lighting the Fires of Freedom offers these deeply personal and intimate accounts of extraordinary struggles for justice that resulted in profound social change, stories that remain important and relevant today.
Published to coincide with the fiftieth anniversary of the Civil Rights Act of 1968, Lighting the Fires of Freedom is a vital document for understanding the Civil Rights Movement and an enduring testament to the vitality of women's leadership during one of the most dramatic periods of American history.
---
Janet Dewart Bell is a social justice activist with a doctorate in leadership and change from Antioch University. She founded the Derrick Bell Lecture on Race in American Society series at the New York University School of Law. An award-winning television and radio producer, she lives in New York City.
Event address:
Book Culture on Columbus
New York, NY 10024
Can't make it? Reserve a signed copy by calling our store today:

$25.99
Email or call for price
ISBN: 9781620973356
Published: New Press - May 8th, 2018
---