Columbus: Mr. Lemoncello's Great Library Race launch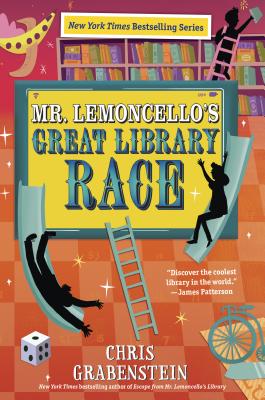 Join us Tuesday, October 10th at 6pm for the launch of Chris Grabenstein's newest addition to the Mr. Lemoncello series, Mr. Lemoncello's Great Library Race!
Click here to RSVP on Facebook!
#1 New York Times bestselling author Chris Grabenstein is back with the third fantastically fun, puzzle-packed MR. LEMONCELLO adventure!

On your marks. Get set. Lemon, cello, GO!

Everyone's favorite game maker, Mr. Lemoncello, is testing out his new FABULOUS FACT-FINDING FRENZY game! If Kyle can make it through the first round, he and the other lucky finalists will go on a great race—by bicycle, bookmobile, and even Mr. Lemoncello's corporate banana jet!—to find fascinating facts about famous Americans. The first to bring their facts back to the library will win spectacular prizes! But when a few surprising "facts" surface about Mr. Lemoncello, it might be GO TO JAIL and LOSE A TURN all at once! Could Kyle's hero be a fraud? It's winner take all, so Kyle and the other kids will have to dig deep to find out the truth before the GAME is OVER for Mr. Lemoncello and his entire fantastic empire!

Filled with brand-new puzzles and games (including a hidden bonus puzzle!), this fast-paced read will have gamers and readers alike racing to the finish line because, like Mr. Lemoncello's commercials say, IS IT FUN? . . . HELLO! IT'S A LEMONCELLO!
---
Chris Grabenstein is the author of the New York Times bestsellers Welcome to Wonderland: Home Sweet Motel, The Island of Dr. Libris, Escape from Mr. Lemoncello's Library, and Mr. Lemoncello's Library Olympics. He is also the co-author (with James Patterson) of the #1 Bestsellers I Funny, House of Robots, Treasure Hunters, Jacky HA-HA, Word of Mouse, and many others. He lives in New York City.
Can't make it? Reserve a signed copy by calling our store today:

$16.99
ISBN: 9780553536065
Availability: On Our Shelves Now - Click Title to See Location Inventory.
Published: Random House Books for Young Readers - October 10th, 2017
---

$7.99
ISBN: 9780553510423
Availability: On Our Shelves Now - Click Title to See Location Inventory.
Published: Yearling - April 25th, 2017
---

$7.99
ISBN: 9780307931474
Availability: Available for Special Order - Usually ships in 3-5 Days
Published: Yearling - June 24th, 2014
---