Columbus: NEW DATE Koi A Modern Folktale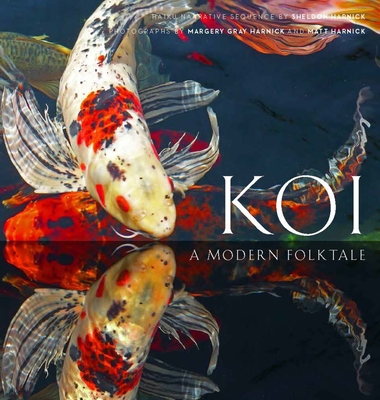 Please join us Tuesday, August 8th at 7pm as Book Culture on Columbus and Harper's Magazine present Koi: A Modern Folktale by Margery Gray Harnick, Matt Harnick, and Sheldon Harnick. Sheldon and Margery will be in conversation with editor of Harper's Magazine, James Marcus.
Koi are unusually beautiful creatures. Perhaps because of their unusual beauty, koi have inspired a variety of legends. The recurrent theme in these legends is that koi, because of their endurance and perseverance, have become symbolic of overcoming adversity and fulfilling one's destiny. In one of the more celebrated versions of this legend, koi are rewarded for their endurance and perseverance by being transformed into dragon fish.

In their book Koi, Margery and Sheldon Harnick have created their own version of this legend in photographs and verses. In their version, koi are rewarded for a reason other than endurance and perseverance. Though the years, the gods have noted how much pleasure men and women have derived simply from observing the prismatic beauty of the koi. For this gift to mankind, the gods decided to transform the most beautiful koi into majestic and powerful dragons.
---
Sheldon Harnick's career began in the 1950's with songs in revues both on and off Broadway. With Jerry Bock he created a number of memorable musicals including Fiorello!, She Loves Me and Fiddler on the Roof. Other collaborations: Rex (Richard Rodgers), A Wonderful Life (Joe Raposo), A Christmas Carol (Michel Legrand), Smiling the Boy Fell Dead (David Baker) and The Phantom Tollbooth (with Arnold Black Norton Juster). He has written two musicals himself: Dragons and Malpractice Makes Perfect. The Angel recording of The Merry Widow, using Mr. Harnick's translation, won the Grammy Award as Best New Opera recording of 1989/79. And along with Jerry Bock he was presented with The Johnny Mercer Award by the Songwriters Hall of Fame.
Margery Harnick (known professionally as Margery Gray) began her long career at the age of seven, singing on an NBC-Radio children's program. On Broadway, Ms. Gray was featured in Greenwillow and Tovarich (where she played opposite Vivien Leigh and Jean Pierre Aumont). She was also featured in the highly successful Off-Broadway revival of Anything Goes and toured the United States and Canada with the original cast of The Boy Friend. Mr. and Mrs. Harnick's paths crossed when she was featured in his shows Tenderloin and Fiorello. Together they appeared at 'Rainbow and Stars' in 1990. Currently, they have created a book composed of her photographs and his poems titled, "The Outdoor Museum".
James Marcus is the editor of Harper's Magazine and the author of Amazonia: Five Years at the Epicenter of the Dot-Com Juggernaut (2004) as well as seven translations from the Italian, the most recent being Giacomo Casanova's The Duel (2011). He forthcoming book is Glad to the Brink of Fear: A Portrait of Emerson in Thirteen Installments.
Can't make it? Reserve a signed copy by calling our store today:

$24.95

ISBN: 9780825308413
Availability: Not In Stock - Usually ships in 3-5 Days
Published: Beaufort Books - June 21st, 2017
---