Please allow 2-4 days for order processing for ALL orders, in addition to shipping times.

We are currently working with very limited staffing and your patience is greatly appreciated. Thank you!
Columbus: Paul Goldberg on The Château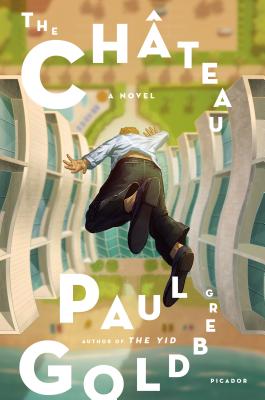 Join us at Book Culture on Columbus to celebrate the release of Paul Goldberg's new book The Château on Thursday, March 1st at 7pm!
Paul Goldberg, the acclaimed author of The Yid, takes us behind the scenes of a Florida condo board election, delivering a wild spin on Miami Beach, petty crime, Jewish identity, and life in Trump's America.
It is January 2017 and Bill has hit rock bottom. Yesterday, he was William M. Katzenelenbogen, successful science reporter at The Washington Post. But things have taken a turn. Fired from his job, aimless, with exactly $1,219.37 in his checking account, he learns that his college roommate, a plastic surgeon known far and wide as the "Butt God of Miami Beach," has fallen to his death under salacious circumstances. With nothing to lose, Bill boards a flight for Florida's Gold Coast, ready to begin his own investigation--a last ditch attempt to revive his career.
There's just one catch: Bill's father, Melsor.
Melsor Yakovlevich Katzenelenbogen--poet, literary scholar, political dissident, small-time-crook--is angling for control of the condo board at the Chateau Sedan Neuve, a crumbling high-rise in Hollywood, Florida, populated mostly by Russian Jewish immigrants. The current board is filled with fraudsters levying "special assessments" on residents, and Melsor will use any means necessary to win the board election. And who better to help him than his estranged son?
As he did in The Yid, Paul Goldberg has taken something we think we know and turned it on its ear. Featuring a colorful cast of characters, The Chateau guarantees that you will never look at condo boards, crime, kleptocracy, vodka, Fascism, or Florida the same way again.
---
Paul Goldberg's debut novel The Yid was published in 2016 to widespread acclaim and named a finalist for both the Sami Rohr Prize for Jewish Literature and the National Jewish Book Award's Goldberg Prize for Debut Fiction. As a reporter, Goldberg has written two books about the Soviet human rights movement, and has co-authored (with Otis Brawley) the book How We Do Harm, an expose of the U.S. healthcare system. He is the editor and publisher of The Cancer Letter, a publication focused on the business and politics of cancer. He lives in Washington, D.C.
Can't make it? Reserve a signed copy by calling our store today:

Email or call for price.
ISBN: 9781250116093
Availability: Hard to Find
Published: Picador - February 13th, 2018
---