Columbus: Peter Biskind & James Schamus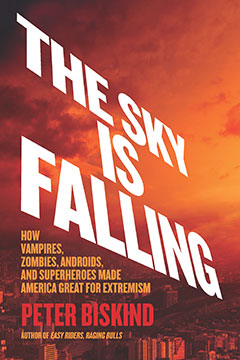 Join us Wednesday, September 12th, at 7pm for a discussion of The Sky Is Falling: How Vampires, Zombies, Androids, and Superheroes Made America Great for Extremism between the author, Peter Biskind, and screenwriter James Schamus.
Almost everything has been invoked to account for Trump's victory and the rise of the alt-right, from job loss to racism to demography—everything, that is, except popular culture. In The Sky Is Falling bestselling cultural journalist Peter Biskind dives headlong into two decades of popular culture—from superhero franchises such as the Dark Knight, X-Men, and the Avengers and series like The Walking Dead and Game of Thrones to thrillers like Homeland and 24—and emerges to argue that these shows are saturated with the values that are currently animating our extreme politics.
Where once centrist institutions and their agents—cops and docs, soldiers and scientists, as well as educators, politicians, and "experts" of every stripe—were glorified by mainstream Hollywood, the heroes of today's movies and TV, whether far right or far left, have overthrown this quaint ideological consensus. Many of our shows dramatize extreme circumstances—an apocalypse of one sort or another—that require extreme behavior to deal with, behavior such as revenge, torture, lying, and even the vigilante violence traditionally discouraged in mainstream entertainment.
In this bold, provocative, and witty investigation, Biskind shows how extreme culture now calls the shots. It has become, in effect, the new mainstream.
---
Peter Biskind is a contributing editor to Vanity Fair, a writer for Esquire, and the author of the classic bestsellers Easy Riders, Raging Bulls and Down and Dirty Pictures. He lives in upstate New York.
James Schamus is an award-winning screenwriter (The Ice Storm) and producer (Brokeback Mountain), and former CEO of Focus Features, the motion picture production, financing, and worldwide distribution company whose films have included Milk, Eternal Sunshine of the Spotless Mind, The Pianist, Coraline, and The Dallas Buyers Club. He is the author of Carl Theodor Dreyer's Gertrud: The Moving Word, published by the University of Washington Press, and is currently completing another book, My Wife is a Terrorist: Lessons in Storytelling from the Department of Homeland Security, for Harvard University Press. He recently directed the short documentary That Film About Money. He earned his BA, MA, and Ph.D. in English from U.C. Berkeley.
Event address:
Book Culture on Columbus
New York, NY 10024
Can't make it? Reserve a signed copy by calling our store today:

$26.99
ISBN: 9781620974292
Availability: Not in Stock - Available for special order
Published: New Press - September 11th, 2018
---