Columbus: Queer Book Club reads Adam Silvera's More Happy than Not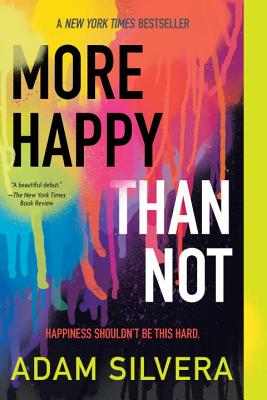 Join us on Sunday, September 10th as Queer Book Club reads More Happy than Not by Adam Silvera at Book Culture on Columbus.
In the months after his father's suicide, it's been tough for sixteen-year-old Aaron Soto to find happiness again--but he's still gunning for it. With the support of his girlfriend Genevieve and his overworked mom, he's slowly remembering what that might feel like. But grief and the smile-shaped scar on his wrist prevent him from forgetting completely.
When Genevieve leaves for a couple of weeks, Aaron spends all his time hanging out with this new guy, Thomas. Aaron's crew notices, and they're not exactly thrilled. But Aaron can't deny the happiness Thomas brings or how Thomas makes him feel safe from himself, despite the tensions their friendship is stirring with his girlfriend and friends. Since Aaron can't stay away from Thomas or turn off his newfound feelings for him, he considers turning to the Leteo Institute's revolutionary memory-alteration procedure to straighten himself out, even if it means forgetting who he truly is.
Why does happiness have to be so hard?
---
The Queer Book Club meets on the second Sunday of every month at 5pm to discuss queer fiction, nonfiction and poetry titles. All are welcome to attend, LGBT-identifying or otherwise. Discussion is expected to run for about an hour, and may include extension into contemporary issues surrounding LGBT-identifying people. This space may also be used to discuss LGBT activism and opportunities to engage social actions. Respectful, invitational dialogue is expected of all participants. Tanmoy Tom Das Lala and Casey Beck are the facilitators of the book club. Tom and Casey will collect feedback on what members wish to read and discuss as the book club grows and evolves. Check the event calendar to see what the book is for each month. Please submit questions to queerbc@bookculture.com.