Columbus: Romance Book Club reads Wrong to Need You with Eloisa James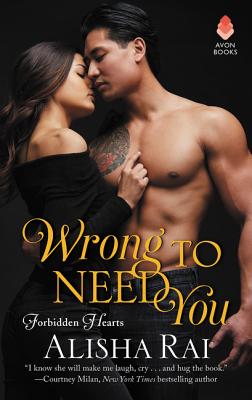 Join us at Book Culture on Columbus as Romance Book Club reads Eloisa James's latest pick Wrong to Need You by Alisha Rai on Thursday, May 17th at 7pm!
Accused of a crime he didn't commit, Jackson Kane fled his home, his name, and his family. Ten years later, he's come back to town: older, wiser, richer, tougher--and still helpless to turn away the one woman he could never stop loving, even after she married his brother.
Sadia Ahmed can't deal with the feelings her mysterious former brother-in-law stirs, but she also can't turn down his offer of help with the cafe she's inherited. While he heats up her kitchen, she slowly discovers that the boy she adored has grown into a man she's simply unable to resist.
An affair is unthinkable, but their desire is undeniable. As secrets and lies are stripped away, Sadia and Jackson must decide if they're strong enough to face the past...and step into a future together.
---
Led by Eloisa James, this book club is linked to our Book Culture Selects Romance subscription, as Eloisa and interested readers meet every other month to discuss featured titles in person. Do you live anywhere around New York City? Subscribers have first dibs to sign up for each meeting at the Columbus Avenue Book Culture. Come along, make friends, and hang out with romance readers who love the genre—and love to think about it in smart, fun ways. Whenever possible, guest authors will join the discussion. If you have questions, please email romance@bookculture.com.