Columbus: Sally Koslow on Another Side of Paradise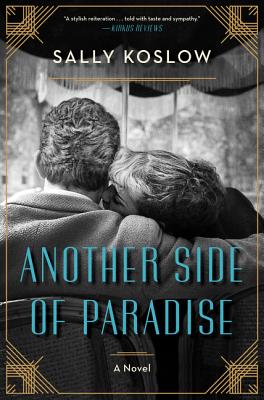 Join us at Book Culture on Columbus to celebrate the release of Sally Koslow's Another Side of Paradise on Wednesday, June 6th at 7pm. Sally will be joined in conversation by Jillian Medoff!
In 1937 Hollywood, gossip columnist Sheilah Graham's star is on the rise, while literary wonder boy F. Scott Fitzgerald's career is slowly drowning in booze. But the once-famous author, desperate to make money penning scripts for the silver screen, is charismatic enough to attract the gorgeous Miss Graham, a woman who exposes the secrets of others while carefully guarding her own. Like Fitzgerald's hero Jay Gatsby, Graham has meticulously constructed a life far removed from the poverty of her childhood in London's slums. And like Gatsby, the onetime guttersnipe learned early how to use her charms to become a hardworking success; she is feted and feared by both the movie studios and their luminaries.
A notorious drunk famously married to the doomed Zelda, Fitzgerald fell hard for his "Shielah" (he never learned to spell her name), a shrewd yet softhearted woman--both a fool for love and nobody's fool--who would stay with him and help revive his career until his tragic death three years later. Working from Sheilah's memoirs, interviews, and letters, Sally Koslow revisits their scandalous love affair and Graham's dramatic transformation in London, bringing Graham and Fitzgerald gloriously to life with the color, glitter, magic, and passion of 1930s Hollywood.
---
Sally Koslow is the author of The Widow Waltz; The Late, Lamented Molly Marx; With Friends Like These; and the nonfiction work Slouching Toward Adulthood. Her debut novel, Little Pink Slips, was inspired by her long career as the editor in chief of the iconic McCall's magazine. Her books have been published in a dozen countries.
Jillian Medoff is the author of four novels: the much-lauded This Could Hurt, I Couldn't Love You More, Good Girls Gone Bad, and Hunger Point. A former fellow at MacDowell, Blue Mountain Center, VCCA, and Fundación Valparaíso, Medoff has an MFA from NYU. She is a Senior Consultant at the Segal Group.
Can't make it? Reserve a signed copy by calling our store today:

$26.99
Email or call for price
ISBN: 9780062696762
Published: Harper - May 29th, 2018
---