Columbus: Sisonke Msimang on Always Another Country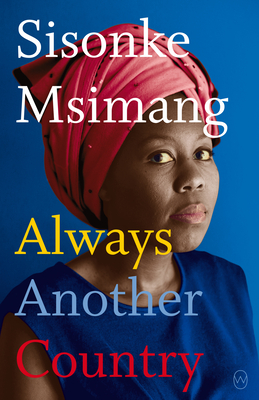 Please join Book Culture on Columbus and Harper's Magazine for a conversation and reading with Sisonke Msimang on Always Another Country on September 26th at 7pm.
"Brutally and uncompromisingly honest, Sisonke's beautifully crafted storytelling enriches the already extraordinary pool of young African women writers of our time." --Gra a Machel, widow of former South African president Nelson Mandela
Born in exile, in Zambia, to a guerrilla father and a working mother, Sisonke Msimang is constantly on the move. Her parents, talented and highly educated, travel from Zambia to Kenya and Canada and beyond with their young family. Always the outsider, and against a backdrop of racism and xenophobia, Sisonke develops her keenly perceptive view of the world. In this sparkling account of a young girl's path to womanhood, Sisonke interweaves her personal story with her political awakening in America and Africa, her euphoria at returning to the new South Africa, and her disillusionment with the new elites. Confidential and reflective, Always Another Country is a search for belonging and identity: a warm and intimate story that will move many readers.
---
Sisonke Msimang (Swaziland, 1974) is a South African writer, speaker and political analyst in issues related to race, gender and democracy. With her successful literary debut, Always Another Country, she has established herself as one of the most exciting new contemporary voices in literature. Born to parents living in political exile, Sisonke Msimang was raised in Zambia, Kenya and Canada, before going to the US as an undergraduate. She has a Master's Degree in Political Science and a Bachelor of Arts Degree from Macalester College in the USA. She has held fellowships at Yale University and the Aspen Institute and was selected as a Young Global Leader by the World Economic Forum (WEF). She has worked for the United Nations and as an Executive Director of George Soros' Open Society Initiative for Southern Africa. Now based in Perth, Australia, she is Program Director for the Centre for Stories, a social enterprise organization, from where she travels regularly to the US, South Africa and other countries. She contributes to publications such as The New York Times, The Guardian and The Huffington Post, and has over 20,000 followers on Twitter (@Sisonkemsimang). Her TED Talk, 'If a story moves you, act on it', has been viewed over a million times.
Event address:
Book Culture on Columbus
New York, NY 10024
Can't make it? Reserve a signed copy by calling our store today:

$16.99

ISBN: 9781642860009
Availability: Available for Special Order - Usually ships in 3-5 Days
Published: World Editions - September 4th, 2018
---