Columbus: Themes in Literature Book Club reads Severo Sarduy's Cobra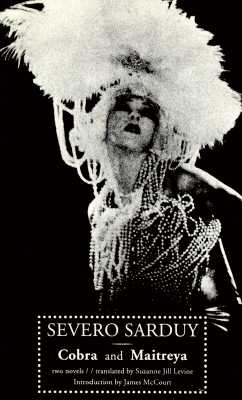 Join Book Culture on Columbus's Themes in Literature Book Club on Monday, August 14th at 7pm, as they discuss Severo Sarduy's Cobra! Cobra recounts the tale of a transvestite named Cobra, star of the Lyrical Theater of the Dolls, whose obsession is to transform his/her body. She is assisted in her metamorphosis by the Madam and Pup, Cobra's dwarfish double. They too change shape, through the violent ceremonies of a motorcycle gang, into a sect of Tibetan lamas seeking to revive Tantric Buddhism.
The Themes in Literature Book Club meets once a month in 3-month theme cycles. Three works of literature that share a common theme (e.g. dystopia, books inspired by Shakespeare, illicit love, books adapted into movies) are read and discussed -- one novel with its own conversation each month. At least one classic and one contemporary novel are included in each theme's book selection. This group meets on the second Monday of every month at Book Culture on Columbus, and is expected to run about an hour and a half. The book club facilitators are Louise Barder and Loretta Murin. If you have questions or would like to join the book club, email themesinliterature@bookculture.com. More information can be found here.