Columbus: Tim O'Mara, Ross Klavan, and Charles Salzberg on Three Strikes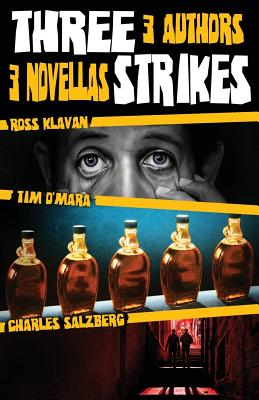 Join us at Book Culture on Columbus for a reading and discussion on Three Strikes: 3 Authors, 3 Novellas with Tim O'Mara, Ross Klavan, and Charles Salzberg, on Tuesday, September 18th at 7pm!
Bartok's story is told by a driver for the mob, a guy who's heard it all and usually keeps his mouth shut because when he begins a trip, it's almost always one-way.

"Jammed" by Tim O'Mara

Aggie's back. After barely escaping with his life in "Smoked," Aggie disproves the old adage of "Once burned..." This time around he's heading from the Midwest to New York City with a sweet shipment of stolen maple syrup. He also has picked up an unwanted-and potentially dangerous-passenger; the fifteen-year-old daughter of his latest boss has hopped on for a free ride to the Big Apple and her on-line boyfriend. When they arrive in NYC, Aggie's worst fears are realized when the "boyfriend" turns out to be a group of human traffickers. Aggie knew that running one of the world's most valuable liquids across state lines was skirting the line between safety and danger, but he never knew it could get this sticky.

"The Maybrick Affair" by Charles Salzberg

It's a couple weeks before the attack on Pearl Harbor and a young reporter, Jake Harper, who works for a small Connecticut newspaper, is assigned a routine human interest story. A reclusive, elderly woman, has quietly passed away in her small cottage upstate. Anxious for bigger stories, Jake begins his assignment by trying to find out who this woman was and what kind of life she led. As Jake investigates the old woman's death he finds that years earlier she was tried and convicted of murdering her husband in a well-publicized, lurid trial in London, England. And, after digging further, he, unearths evidence that she might have had a connection to an even more famous British serial killer and that the ramifications of this story might affect America's entry into the War.
---
Tim O'Mara is best known for his Raymond Donne mysteries about an ex-cop who now teaches in the same Williamsburg, Brooklyn, neighborhood he once policed: Sacrifice Fly (2012), Crooked Numbers (2013), Dead Red (2015), Nasty Cutter (2017), published by Minotaur Books (#1–#3) and Severn House (#4). He recently signed a deal for a fifth Raymond book, The Hook, which should be published in late 2019 by Severn House. His novellas Smoked and Jammed appear in 2016 and 2018 crime trilogies from Down & Out Books. O'Mara taught special education for 30 years in the public middle schools of New York City, where he still lives and teaches adult writers. In addition to writing The Hook and the stand-alone high-school-based crime drama So Close to Me, O'Mara is currently curating a short crime story anthology to benefit the non-profit American Rivers.
Ross Klavan's work spans film, television, radio, print, live performance and visual art. A novella, "Thump Gun Hitched," was published in 2016 by Down and Out Books as part of "Triple Shot" along with Charles Salzberg and Tim O'Mara. His darkly comic novel Schmuckwas published by Greenpoint Press in 2014. Klavan's original screenplay for the film Tigerlandwas nominated for an Independent Spirit Award and the film was released by New Regency starring Colin Farrell. He recently finished an adaption of John Bowers' The Colonyand has written scripts for Miramax, Intermedia, Walden Media, Paramount, A&E and TNT-TV among others. The "conversation about writing" he moderated with Kurt Vonnegut and Lee Stringer was televised and published as Like Shaking Hands with God, and his short stories have appeared in magazines and been produced by the BBC. An earlier novel, Trax, was published under a pseudonym. His play How I Met My (Black) Wife (Again), co-written with Ray Iannicelli,has been produced in New York City, and he has performed his work in numerous theaters and clubs. He has acted and done voice work in TV and radio commercials and has lent his voice to feature films including: Casino,You Can Count on Me,Revolutionary Road,Awakeand the Amazon web series Alpha House,written by Gary Trudeau. He has worked as a newspaper and radio journalist in New York City and London. He lives in New York City with his wife, the painter, Mary Jones.
Charles Salzberg is the author of the Shamus Award nominated Swann's Last Song, Swann Dives In,Swann's Lake of Despair, nominated for two Silver Falchions, and Swann's Way Out. His novel, Devil in the Hole was named one of the best crime novels of the year by Suspense magazine. His novella, "Twist of Fate" appeared in Triple Shot, He is a former freelance writer whose work has appeared in New York magazine, Esquire, GQ, The Big Thrill, The New York Times Book Review and numerous other periodicals. He has written over 20 non-fiction books, including From Set Shot to Slam Dunk, an oral history of the NBA, and Soupy Sez: My Zany Life and Times. He was a Visiting Professor of Magazine at the S.I. Newhouse School of Public Communications at Syracuse University and he teaches writing the New York Writers Workshop where he is a Founding Member. He is a member of the MWA-NY Board.
Event address:
Book Culture on Columbus
New York City, NY 10024
Can't make it? Reserve a signed copy by calling our store today:

$16.95
ISBN: 9781948235259
Availability: On Our Shelves Now - Click Title to See Location Inventory.
Published: Down & Out Books - September 10th, 2018
---