Complex Issues: Susan Hartman on City of Refugees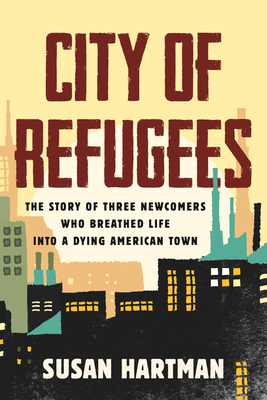 Please join Book Culture and our friends at Lenfest Center for the Arts on Thursday, October 13th at 6:30pm for a celebration of Susan Hartman's newest book, City of Refugees: The Story of Three Newcomers Who Breathed Life Into a Dying American Town. Hartman will be joined in conversation with Lis Harris.
This event will take place at The Katharina Otto-Bernstein Screening Room. We ask that everyone register via the link provided.
---
Writing professors Susan Hartman '76 and Lis Harris discuss City of Refugees: The Story of Three Newcomers Who Breathed Life Into A Dying American Town, Hartman's portrayal of refugees in Utica, New York.
"In this intimate book, journalist Susan Hartman tells the story of three refugees building new lives in Utica, New York, a city that has struggled to survive. In the 1900s, the old upstate manufacturing town was nearly destroyed by depopulation and arson. Entire streets were torched for insurance payouts. Some residents still remember the bumper sticker, 'Last one out of Utica, please turn out the lights.'
If it weren't for a remarkable influx of refugees from Vietnam, Bosnia, Burma, Somalia, Iraq, and elsewhere, Utica may have continued to fade. Hartman has written about immigrant communities for over twenty years. With clarity and insight, she shows the challenges of adapting to a new world. For eight years, Hartman followed Sadia, a bright, spirited Somali Bantu teenager who rebels against her formidable mother; Ali, an Iraqi translator who creates a home with a divorced American woman but is still traumatized by war; and Mersiha, a hardworking and ebullient Bosnian who dreams of opening a cafe. They are part of an extraordinary migration: over the past four decades, thousands fleeing war and persecution have transformed Utica, opening small businesses, fixing up abandoned homes, and adding a spark of vitality to forlorn city streets. Utica is not alone. Other Rust Belt cities — including Buffalo, Dayton, and Detroit — have also welcomed refugees, hoping to jump-start their economies and attract a younger population.
Utica's institutions — its fire department, public schools, hospitals — struggled to deal with a new population speaking over forty languages. But the newcomers helped restore Uticans' confidence; they saw opportunity when no one else did. In recent years, Utica has begun to bloom."
"A Rust Belt City Revived by Immigrants," by Lorraine Glennon. Columbia Magazine, Fall 2022.
"Here's How Refugees Are Reshaping America," by Eve Glasberg. Columbia News. September 8, 2022.
"How Refugees Transformed a Dying Rust Belt Town," by Susan Hartman. Photographs by Todd Heisler. New York Times, June 3, 2022.
Books available for purchase by Book Culture.
Co-presented by Columbia School of Social Work; the Creative Writing Program, Barnard College; the Division of Narrative Medicine at the Columbia Vagelos College of Physicians & Surgeons; the People's Theatre Project; the School of the Arts Writing Program; the Tenement Museum; the Urban Planning Program, GSAPP; and the Urban and Social Policy Concentration, SIPA.
---
About Complex Issues
Complex Issues explores difference, visibility, and representation through recent work by faculty of Columbia University and Columbia University School of the Arts in particular. Conversations will invite challenging questions of racial, ethnic, gender, economic, sexual, religious, and cultural complexity, and how they are articulated across disciplines and genre today.
Event address:
Lenfest Center for the Arts
New York, NY 10027
Can't make it? Reserve a signed copy by calling our store today:

$27.95

ISBN: 9780807024676
Availability: On hand at one or more locations, see product page for details
Published: Beacon Press - June 7th, 2022
---