Please allow 2-4 days for order processing for ALL orders, in addition to shipping times.

We are currently working with very limited staffing and your patience is greatly appreciated. Thank you!
LIC: Kate Lacour on Vivisectionary
Join us at Book Culture LIC on Thursday, August 15th at 6pm as we welcome Kate Lacour for the launch of her new book, Vivisectionary.
From "vivisection," the act of dissecting living specimens, and "bestiary," a compendium of real and mythical creatures. Kate Lacour's Vivisectionary is a series of visual sequential experiments in the physiological, the pathological, and the occult. A bizarre and mesmerizing investigation through the marvels of biology and myth to uncover the extraordinary in the ordinary, the magic in science, the sublime in the grotesque. Part art comic, part surrealist textbook, Vivisectionary is a delightfully grotesque mix of the mundane and the macabre.
What if lactating snakes gestated inside fetuses? What if factory-farmed pigs were bred as giant, insentient cubes? What if the human spine generated methamphetamine capsules? These single page sequential images illustrate these and many other marvelous, hideous, enigmatic physiological mysteries. Each comics sequence is stitched together (pun intended) by a narrative thread that forms a strange and mesmerizing voyage through the body.
---
Kate Lacour studied biology and psychology at the University of Chicago and Oberlin, and Art Therapy at the School of Visual Arts. She learned to draw through the Art Students' League in New York City. She is the founder of NOLArts Learning Center, a nonprofit serving young people with diverse abilities, and delivered a TED talk on autism, inclusion and Mardi Gras. Her art and comics are inspired by a love for the aesthetics of science and a fascination/revulsion towards bodies. She is the winner of the 2016 Museum of Comics and Cartoon Art award, and has given art talks at the Society of Illustrators, American Art Therapy Conference, New Orleans Public Library, Antenna Gallery, Signals, and the Pharmacy Museum. Kate lives in New Orleans with her husband and three children.
Event address:
Long Island City, NY 11101
Can't make it? Reserve a signed copy by calling our store today: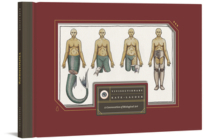 $24.99
ISBN: 9781683962120
Availability: On Our Shelves Now - Click Title to See Location Inventory.
Published: Fantagraphics - August 20th, 2019
---