LIC: Ken Foster on City of Dogs
Please allow 3-4 days for order processing for ALL orders, in addition to shipping times.

We are currently working with very limited staffing and your patience is greatly appreciated. Thank you!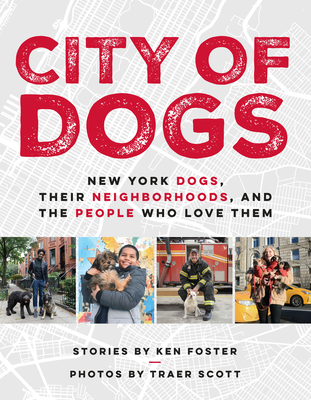 Join us at Book Culture LIC on Thursday, January 17th at 6pm as Ken Foster and Traer Scott discuss, City of Dogs: New York Dogs, Their Neighborhoods, and the People Who Love Them.
A beautiful, heartfelt, funny, and inspiring collection of photos and stories that maps the relationship between canine New Yorkers and their human counterparts.

New York is a city of five boroughs, more than 250 distinct neighborhoods, 8.5 million people, and more than 600,000 dogs, who are as much a part of the social fabric as the people who follow them on the other end of the leash. City of Dogs maps this relationship with incredible four-color photos highlighting the scene.

From the Bronx to Brooklyn and along the streets of Harlem and Manhattan, Ken Foster and Traer Scott explore the unique relationships between dogs and their human counterparts. We meet Alex Nuckel, living on disability and finding joy and purpose in caring for his two pit bulls, Lucy and Rocky. And Majora Carter, a community activist who has received a MacArthur grant, living and working with two stray shepherds she rescued in her own neighborhood. City of Dogs also takes us to a Midtown Manhattan law office, where staff are encouraged to bring their adopted dogs to work, and to the JFK airport, where we meet dogs who help screen at security. And then on to Brooklyn, where we meet award-winning author Jacqueline Woodson and her dogs, Toffee and Shadow. These are just a few of the amazing animals and their people featured in this perfect gift book for any dog lover.
---
Ken Foster is the author of several books on dogs, including The Dogs Who Found Me, the New York Times bestseller Dogs I Have Met: And the People They Found, and the national bestseller I'm a Good Dog: Pit Bulls, America's Most Beautiful (and Misunderstood) Pet. His writing has appeared in McSweeney's, The Believer, the San Francisco Chronicle, Bomb, Fence, and Bark.

Traer Scott is an award-winning photographer and author of eight books, including: Shelter Dogs, Nocturne: Creatures of the Night, and Finding Home: Shelter Dogs and Their Stories. Her work has been featured in National Geographic, Life, Vogue, People, and O: The Oprah Magazine, and on The New York Times's Lens blog.
Event address:
Book Culture LIC
Long Island City, NY 11101
Can't make it? Reserve a signed copy by calling our store today:

$20.00
ISBN: 9780525535164
Availability: On Our Shelves Now - Click Title to See Location Inventory.
Published: Avery - October 9th, 2018
---