LIC: A special story time with Andy Rash
Please allow 5-10 days for order processing for ALL orders, in addition to shipping times.

We are currently working with very limited staffing and your patience is greatly appreciated. Thank you!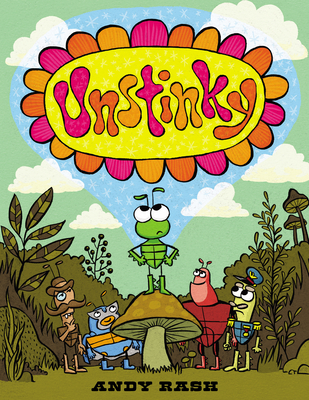 Join us for a special story time at Book Culture LIC with Andy Rash, author of Unstinky, on Sunday, November 11th at 11:30am!
Bud is a happy stinkbug, except when it comes to stinking contests.
He always seems to lose to champions like P. U. Bottoms, Lord Stinkington, and The Fumigator.
Every time they make smells like OUTHOUSE, GYM SOCK, and ARMPIT, poor Bud ends up smelling like FLOWERS, or FRESH-BAKED BREAD, or CANDY CANE.
Stinking just isn't Bud's THING. But what IS his thing?
With an ending as fresh as a daisy, and funnier than any funny smell, Andy Rash puts a hilarious spin on a tale of following your nose to happiness.
---
Andy Rash is the author and illustrator of several picture books, including The Robots Are Coming, Are You a Horse?, and Agent A to Agent Z. Andy's illustrations have been featured in the New York Times, Time, Wired, the New Yorker, and other national publications, and his animations have been shown on Nickelodeon. He lives in Milwaukee with his wife and two children.
Event address:
Book Culture LIC
New York, NY 11101
Can't make it? Reserve a signed copy by calling our store today:

$17.99
ISBN: 9780439368803
Availability: On Our Shelves Now - Click Title to See Location Inventory.
Published: Arthur A. Levine Books - September 25th, 2018
---