Please allow 1-3 days for order processing for ALL orders, in addition to shipping times.

We are currently working with very limited staffing and your patience is greatly appreciated. Thank you!
LIC: A Special Storytime with Kristy Caldwell
Join Book Culture LIC on Saturday, May 4th at 11:30am for a special storytime to celebrate Children's Book Week with illustrator Kristy Caldwell. She will be reading from her picture book, Away with Words: The Daring Story of Isabella Bird.
Just in time for Women's History Month, author Lori Mortensen and illustrator Kristy Caldwell (Flowers for Sarajevo) bring readers Away with Words: The Daring Story of Isabella Bird (March 2019). This is the first-ever picture book biography of Isabella Bird, who was a true trailblazer as well as Victorian- English adventurer, and the first female member of the Royal Geographical Society.
Like a wild vine stuck in a too-small pot, Isabella Bird thirsted for more than her proper 19th-century life in England. Thriving on fresh air, curious Isabella began traveling—first to the English countryside, then to American and Canada, and eventually around the world. With each journey she breathed in new ways to see and describe everything around her, and she turned her experiences into bestselling books that captivated readers with her vibrant descriptions and impressive expeditions. Isabella Bird showed the world that women could be persistent, independent, daring, and successful.
This nonfiction picture book about an inspiring female pioneer of exploration features detailed, graphic novel-like illustrations by Kristy Caldwell. Author Lori Mortensen also includes quotations of text from Bird's own published books throughout the story. Back matter contains an author's note with more detail about Bird's life, a timeline of her travels, and additional sources.
---
LORI MORTENSEN, a former high school dance teacher and sign language interpreter, is the author of more than 100 books and more than 500 stories and articles. She lives in California. Visit her website at www.lorimortensen.com.
KRISTY CALDWELL received an MFA in Illustration from the School of Visual Arts and recently illustrated the award-winning Flowers for Sarajevo (Peachtree, 2017). She lives in New York. Visit her website at www.kristycaldwellcom.
Event address:
Book Culture LIC
Long Island City, NY 11101
Can't make it? Reserve a signed copy by calling our store today: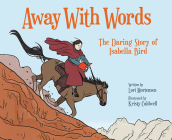 Email or call for price
ISBN: 9781682630051
Availability: Not in Stock - Subject to Availability
Published: Peachtree Publishing Company - March 1st, 2019
---