POSTPONED - 112th: Cara Hoffman and T Fleischmann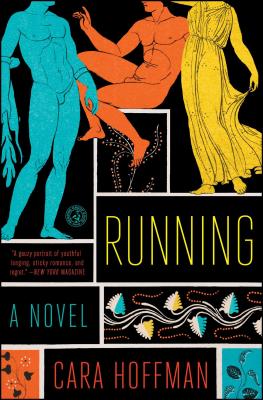 This event has been postponed. Please check back soon for a rescheduled date.
Celebrate the paperback launch of Cara Hoffman's Running at Book Culture on 112th! Cara will be joined in conversation by T Fleischmann.
From the critically acclaimed author of Be Safe I Love You comes a haunting novel of love, friendship, and survival set in the red light district of Athens in the 1980s that New York magazine calls "a gauzy portrait of youthful longing, sticky romance, and regret."
Running follows the lives of three friends and lovers: queer English poet Milo Rollack, prep school dropout Jasper Lethe, and seventeen-year-old Bridey Sullivan, an American with a fascination for fire. Barely out of childhood, squatting in a crumbling hotel on the outskirts of Athens in the late 1980s, the three slip in and out of homelessness, heavy drinking, and underground jobs. While working as runners for the hotel--convincing tourists to stay there for a commission and free board--they are befriended by an IRA fugitive and become inextricably linked to an act of terrorism that will mark each of them for life.
Bridey, the consummate survivor, abandons Jasper and Milo, planning to return when the dust has settled. But no one has fared well in her absence. And then a mysterious death drives her to seek an impossible absolution that will take her from the streets of the red-light district to the remote island cliff houses of the southern Mediterranean.
Twenty-five years later, Milo, now a successful writer and professor in Manhattan, struggles to live ethically in a world he knows is corrupt, coping with a secret that makes him a stranger to those closest to him.
---
Cara Hoffman is the author of three critically acclaimed novels, the most recent, Running, was a New York Times Editor's Choice, and one of AutoStraddle's Best Queer and Feminist Novels of 2017. Her work has appeared in The New York Times, Rolling Stone, and the Paris Review, and she has been a visiting writer at St. Johns, Goddard College, and The University of Oxford. She lives in the Lower East Side.
T Clutch Fleischmann is the author of Syzygy, Beauty (Sarabande) and Time Is the Thing a Body Moves Through (forthcoming, Coffee House Press). A Nonfiction Editor at DIAGRAM and Contributing Editor at EssayDaily, they currently live in Chicago.
Can't make it? Reserve a signed copy by calling our store today:

$16.00
ISBN: 9781476757582
Availability: On Our Shelves Now - Click Title to See Location Inventory.
Published: Simon & Schuster - February 20th, 2018
---

$15.95
ISBN: 9781936747269
Availability: On Our Shelves Now - Click Title to See Location Inventory.
Published: Sarabande Books - March 20th, 2012
---