SOF/Heyman: Celebrating Recent Work by Hilary Hallett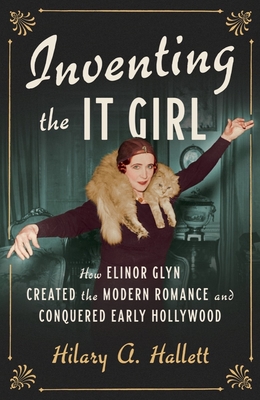 Please join Book Culture and our friends at SOF/Heyman on Wednesday, November 30th at 6:15pm for a celebration of Hilary Hallett's newest book, Inventing the It Girl: How Elinor Glyn Created the Modern Romance and Conquered Early Hollywood. Professor Hallett will be joined in conversation with Farran Smith Nehme, Sharon Marcus, Pablo Piccato, and Alice Kessler-Harris.
This event will be in person at the Heyman Center and live-streamed online. Please register for both in-person and virtual attendance via the link. Registration and masking are mandatory for in-person attendance.
---
Inventing the It Girl: How Elinor Glyn Created the Modern Romance and Conquered Early Hollywood
by Hilary Hallett
The modern romance novel is elevated to a subject of serious study in this addictively readable biography of pioneering celebrity author Elinor Glyn (1864–1943). In elegant prose, Hilary A. Hallett traces Glyn's meteoric rise from a depressed society darling to a world-renowned celebrity author who consorted with world leaders from St. Petersburg to Cairo to New York. After reporting from the trenches during World War I, the author was lured by American movie producers from Paris to Los Angeles for her remarkable third act. Weaving together years of deep archival research, Hallett movingly conveys how Glyn, more than any other individual during the Roaring Twenties, crafted early Hollywood's glamorous romantic aesthetic. She taught the screen's greatest leading men to make love in ways that set audiences aflame, and coined the term "It Girl," which turned actress Clara Bow into the symbol of the first sexual revolution.
With Inventing the It Girl, Hallett has done nothing less than elevate the origins of the modern romance genre to a subject of serious study. In doing so, she has also reclaimed the enormous influence of one of Anglo-America's most significant cultural tastemakers while revealing Glyn's life to have been as sensational as any of the characters she created on the page or screen. The result is a groundbreaking portrait of a courageous icon of independence who encouraged future generations to chase their desires wherever they might lead.
---
About the Author:
Hilary Hallett is the Mendelson Family Professor and Director of American Studies, and Associate Professor of History where she teaches modern American cultural and social history. Her areas of specialization include women and gender history; histories of popular and mass culture from a transatlantic perspective; and histories of American culture industries, particularly theater, music, film, and Hollywood's history. She is interested in mass media's relationship to social change and to the big stories they tell about America and Americans over time.
About the Speakers:
Farran Smith Nehme has written about film and film history for the New York Post, Barron's, the Wall Street Journal, Film Comment, the Village Voice, and Sight & Sound, as well as for her blog, Self-Styled Siren. Her novel, Missing Reels, was published in 2014.
Sharon Marcus teaches at Columbia University, where she is the Orlando Harriman Professor of English and Comparative Literature, specializing in nineteenth-century British and French culture. Her scholarship analyzes the cultural assignment of value in domains as diverse as architecture, social relationships, literary criticism, and performance culture. Her most recent book is The Drama of Celebrity (Princeton University Press 2019).
Pablo Piccato is a Professor and the Chair of the Department of History at Columbia University. His research and teaching focus on modern Mexico, particularly on crime, politics, and culture. He has taught as visiting faculty in universities in Mexico, Argentina, Brazil, and France, and has been director of Columbia's Institute of Latin American Studies, Vice Chair of the Department of History, and University Senator.
Alice Kessler-Harris is the R. Gordon Hoxie Professor Emerita of American History at Columbia University, and former president of the Organization of American Historians. She is a specialist in American labor and comparative and interdisciplinary explorations of women and gender. Her most recent book is A Difficult Woman: The Challenging Life and Times of Lillian Hellman (Bloomsbury Press 2012).
---
Please email disability@columbia.edu to request disability accommodations. Advance notice is necessary to arrange for some accessibility needs.
This event will be recorded. By being electronically present, you consent to the SOF/Heyman using such video for promotional purposes.
Event address:
Heyman Center for the Humanities
East Campus Residential Center
Columbia University
New York, NY 10027
Can't make it? Reserve a signed copy by calling our store today:

$32.50

ISBN: 9781631490699
Availability: On hand at one or more locations, see product page for details
Published: Liveright - July 26th, 2022
---