SOF/Heyman: Celebrating Recent Work by Jessica Merrill
Event date:
10/25/2022 - 6:15pm to 7:30pm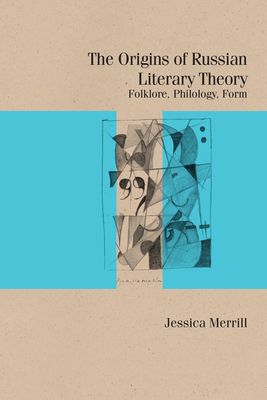 Please join Book Culture and our friends at SOF/Heyman on Tuesday, October 25th at 6:15pm for a celebration of Jessica Merrill's newest book, The Origins of Russian Literary Theory: Folklore, Philology, Form. Professor Merrill will be joined in conversation with Ilya Kliger, Dennis Tenen, Mark Lipovetsky, and Liza Knapp.
This event will take place at the Heyman Center and be live-streamed over Zoom. We ask that everyone register via Zoom.
---
The Origins of Russian Literary Theory
by: Jessica Merrill.
Russian Formalism is widely considered the foundation of modern literary theory. This book reevaluates the movement in light of the current commitment to rethink the concept of literary form in cultural-historical terms. Jessica Merrill provides a novel reconstruction of the intellectual historical context that enabled the emergence of Formalism in the 1910s. Formalists adopted a mode of thought Merrill calls the philological paradigm, a framework for thinking about language, literature, and folklore that lumped them together as verbal tradition. For those who thought in these terms, verbal tradition was understood to be inseparable from cultural history. Merrill situates early literary theories within this paradigm to reveal abandoned paths in the history of the discipline—ideas that were discounted by the structuralist and post-structuralist accounts that would emerge after World War II.

The Origins of Russian Literary Theory reconstructs lost Formalist theories of authorship, of the psychology of narrative structure, and of the social spread of poetic innovations. According to these theories, literary form is always a product of human psychology and cultural history. By recontextualizing Russian Formalism within this philological paradigm, the book highlights the aspects of Formalism's legacy that speak to the priorities of twenty-first-century literary studies.
---
About the Author:
Jessica Merrill is an assistant professor of Slavic languages at Columbia University. She is a scholar of twentieth-century Russian literature and a specialist in the fields of Russian and Czech literary theory, folklore theory, and Russian and Czech modernisms. Her most recent book, The Origins of Russian Literary Theory: Folklore, Philology, Form (Northwestern University Press, July 2022), is an intellectual history that reconstructs contexts for thinking about literary form from the 1840s to 1950s. This contextualization enables a reinterpretation of central Russian Formalist concepts and reveals lost paths in the history of literary theory.
About the Speakers:
Ilya Kliger is an Associate Professor in the Department of Russian and Slavic Studies at NYU. He specializes in 19th-century Russian novel, theory of the novel, literary theory, and the relationship between philosophy and literature. He is author of The Narrative Shape of Truth: Veridiction in Modern European Literature (Pennsylvania State University Press, 2011) and co-editor, with Boris Maslov, of Persistent Forms: Practicing Historical Poetics (Fordham University Press, 2016).
Dennis Tenen is an Associate Professor of English and Comparative Literature at Columbia University. He is the author of Plain Text: The Poetics of Computation (Stanford University Press, 2017) and a co-founder of Columbia's Group for Experimental Methods in the Humanities. His work also appears on the pages of Amodern, boundary 2, Computational Culture, Modernism/modernity, New Literary History, Public Books, and LA Review of Books on topics that range from book piracy to algorithmic composition, unintelligent design, and the history of data visualization.
Mark Lipovetsky is a Professor in the Department of Slavic Languages at Columbia University. His research interests include such subjects as post-Soviet culture, Russian postmodernism, post-Soviet drama, late Soviet nonconformist culture, and tricksters in Soviet culture. Lipovetsky edited 5-volumes of Dmitry Prigov's collected works and is currently working on his critical biography. Lipovetsky's works were nominated for Russian Little Booker Prize (1997) and short-listed for the Andrey Bely Prize (2008).
Liza Knapp teaches in the Department of Slavic Languages of Columbia University and taught in the Slavic Department of the University of California at Berkeley. She is the author of Leo Tolstoy: A Very Short Introduction (Oxford University Press, 2019) and other works on Tolstoy and Dostoevsky. She is also the Cahir of the Department of Slavic Languages.
---
Please email disability@columbia.edu to request disability accommodations. Advance notice is necessary to arrange for some accessibility needs.
This event will be recorded. By being electronically present, you consent to the SOF/Heyman using such video for promotional purposes.
Event address:
Heyman Center for the Humanities
East Campus Residential Center
Columbia University
New York, NY 10027

$39.95

ISBN: 9780810144903
Availability: On hand at one or more locations, see product page for details
Published: Northwestern University Press - July 15th, 2022
---